Self Caring
Wish You Could Find a More Positive Attitude? My Dad's Last Lessons
Last updated: Oct 27, 2010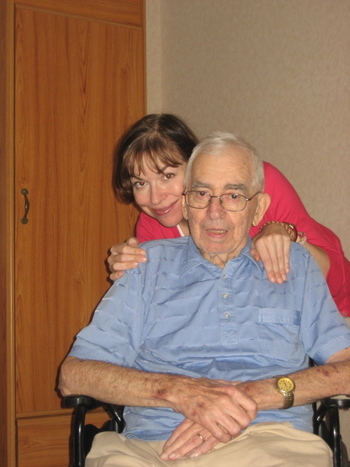 Some days as a caregiver, it can be a struggle to keep anything close to a positive attitude. And yet, the bennies of a positive mood include a tougher immune system, less inflammation, better cardiovascular health, and "" key! -- a safeguard against stress and caregiver burnout. Still, thinking on the bright side isn't always easy.
Here's one small exercise that might help: Think about what you've learned thus far on your caregiving journey (even if you're still a newbie). What didn't you know when you started that you do now? What three things would you tell someone else?
Sharing your knowledge helps others, lifting spirits.
The lessons (large and small) of caregiving are on my mind a lot this week because of my Dad. Dad, who had dementia and stroke, ultimately died of renal cancer one year ago this week, just shy of his 88th birthday.
In his health, he taught me how to drive, to measure evenly, to love the Michigan north woods. (He also tried to teach me about checkbooks and changing tires, but failed, through no fault of his own.) In his declining health, he taught me other important things, though inadvertently.
Here are just three. I wish I'd known"¦
1. ...that it's usually later than you think.
Most people think dementia isn't as far along as it really is. Like most families, we were long in denial about my Dad's memory lapses and terrible driving. (A recent Caring.com survey found that 61 percent of caregivers said the actual diagnosis came one to three years after the first symptoms.) The same could be said for every stage of his decline. I wish I'd learned more about the possible trajectory of every condition, right at the outset. Lesson: Peeking ahead is scary but incredibly helpful; it allows you to plan and feel more in control.
2. ...that doctors don't know everything.
At the start of both my parents' final health crises, I still clung to the notion that health professionals would "know" what was wrong and how to fix it. They often don't. I wish I'd been more assertively part of the team of care from the get-go, to best work with physicians to pick through options. Beware: As your web of specialists, hospital staff, and private docs grows bigger, communication snafus increase, sometimes causing more problems. Lesson: You have to insert yourself at the center of curing and caring.
3. ...that it's okay to measure quality of life by different yardsticks, as we get older.
I used to complain that my parents' lives were "getting smaller." But in retrospect, just because they cared less about headlines and international travel didn't make them less interested in love and simple pleasures. My dad spent the last year of his life mostly playing cribbage (increasingly badly), petting his namesake cat Sylvester, and watching TV or grandchildren at play. But he was always happy to see me -- even when he wasn't exactly certain who I was. I wish I'd caught on sooner to let go of the pain of not being recognized and entered the elemental joy of companionship. Lesson: Try harder to just be in the moment.
These realizations made me feel better then -- and they still do every time I mention them to a friend or colleague in similar straits. And I'm glad to share them here. But with the web, we all have a forum. You can share your wisdom at the bottom of most Caring articles you read. You can give your ten cents to someone in a forum. If you're a dementia caregiver, by enrolling in Steps & Stages you get automatically connected with others facing a similar stage of Alzheimer's.
Or get a mini-mood boost from helping others right now, by sharing right here: What's the #1 thing you wish you'd known at the outset, that you learned by doing?