Self Caring
Me, You, and Justice Sandra Day O'Connor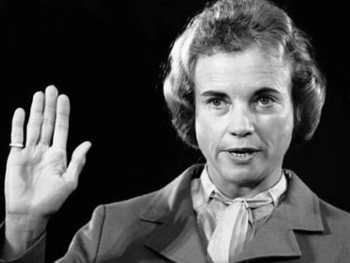 All Rights Reserved
Alzheimer's Disease is the great social leveler. It strikes so many people of so many stripes. (Look at President Ronald Reagan, perhaps the most famous victim yet: Leader of the free world, with all the stimulation and top medical the role grants you, plus an active lifestyle, good marriage, and rich social life. And he still got it.) Alzheimer's caregivers are all alike, in many ways, too.
This struck me anew last week, when I had the privilege to interview Supreme Court Justice Sandra Day O'Connor for Caring.com. This coming Thursday (November 11) marks one year since her husband of 57 years, attorney John J. O'Connor, died of Alzheimer's Disease. He'd been diagnosed almost 20 years earlier. So she knows a lot about what she calls this "dreadful disease."
You may wonder what an Alzheimer's caregiver who served on the nation's high court has in common with you. Or me. (My dad, who also had dementia, died a year ago, too.) She has the best support in the country at her disposal. As half of a legal power couple, she presumably could pay for the best care.
Resources may vary from caregiver to caregiver. But most of us share one thing, the painful emotion I could hear so clearly in Justice O'Connor's otherwise calm, measured speech: love.
"What emotion has been the hardest to deal with through all this?" I asked her. "Anger? Worry?"
She paused a bit. She began talking about how hard it was watching the love of her life succumb to debilitating disease. Then she paused again. And in that pause I could practically hear their shared lifetime of laughs and embraces and anniversaries and proud moments and family ties whoosh past. Finally she finished her thought: "Just, such...sadness."
I get that.
You, too?