Self Caring
Is Caregiving Made Easier, or Sadder, When You Hear About Celebrity Cases?
Last updated: Jun 24, 2011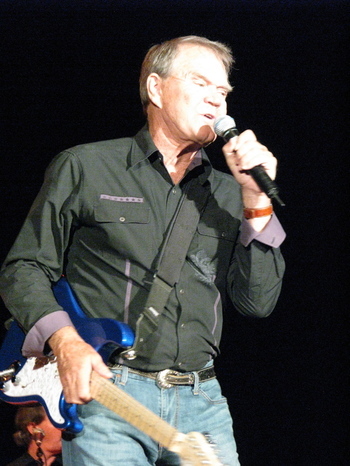 I've been playing old Glen Campbell songs this past week since learning the singer has Alzheimer's disease. (Here's a coincidence -- and a confession: Just a few months ago, after hearing "Wichita Lineman" for the first time in years, I'd put this great rediscovery in heavy play on my iPod.) And now, "Columbo" actor Peter Falk has died with Alzheimer's.
Glen Campbell is only 75, jarring to a whole generation of us who might have seen the likes of Ronald Reagan, Margaret Thatcher, Charlton Heston, Sargeant Shriver, et. al. as "old" when we learned of their Alzheimer's disease.
"Somehow hearing that Glen Campbell has Alzheimer's makes me feel less alone," a caregiver friend told me as we digested the news. She's looking after her father, who also has Alzheimer's disease. "It made me feel like I'm smack in the middle of this terrible epidemic that all kinds of people are dealing with."
What effect does hearing about a celebrity with a terrible disease have on your attitude about being a caregiver?
Does the news help you feel less isolated?

Does it make you even sadder, because you can empathize with the celebrity's family in a freshly personal way?

Are you on some level glad that, at least, a celebrity diagnosis announcement raises the public profile of Alzheimer's, or cancer, or stroke, because it might help advance the push for a cure?

Do you not give a hoot about a celebrity -- and wish the world cared as much about your own loved one's battle?
Interesting questions, given that caregivers who are deep in their own caregiving journeys have heard lately of so many personalities with the sorts of health problems they're caring for themselves. Earlier this spring, Clarence Clemons of Bruce Springsteen's E Street band had a stroke at 69 and died. "Pretty Woman" producer Laura Ziskin died of breast cancer at 61. Cancer also recently took the youngish lives of model Farrah Fawcett, Patrick Swayze, and author Michael Crichton. Hip-hop artist Missy Elliot just announced she has Grave's disease, a disorder that had been more famously linked to former First Lady Barbara Bush. Celebrities I've recently heard talking about being dementia caregivers to their own parents include Martha Stewart, Brooke Shields, and British actor Simon Callow.
No one in the trenches of these illnesses wants anyone else to ever have to experience them, obviously. But when we hear of the diagnoses, it can resonate and help us reflect on what we're going through. For me, hearing Glen Campbell croon "Gentle on My Mind" and "By the Time I Get to Phoenix" reinforces the comforting perspective that my Dad didn't die of an isolated anomaly -- he died of a rampant disease for which we have no cure and which can seemingly strike anyone. I hope Alzheimer's goes gentle on Campbell's mind.