Self Caring
Get Up, Get Out, Skip the Chips, Think of Jack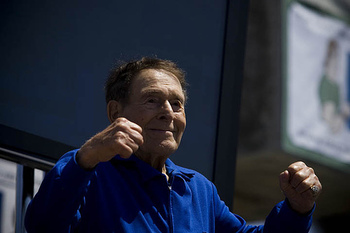 All Rights Reserved
I didn't want to take my walk this morning -"" too darn cold, too darn busy. But my walking buddy insisted: "We've got to do it! Let's do it for Jack!" Fitness pioneer Jack LaLanne, who in his long-running TV show preached whole foods decades before it was the name of a chain and made hard exercise look easy and fun for all ages, died this past weekend.
He was 96 and apparently fit to the end. (That's him three years ago in the foto; he died of pneumonia complications.)
I don't know that Jack LaLanne ever had to cope with caregiving. Late in life, he still could devote two hours every morning to workouts. And he had a gym and pool at home, so that made things a bit easier for him than for the average time-crunched caregiver.
Still. Having grown up watching his iconic jumpsuits and fingertip pushups on black-and-white TV, I can't help thinking how Jack LaLanne spent his entire life practicing what he preached. And it paid off.
He ate whole foods (apparently lots of egg whites, oatmeal, salmon, veggies -"" and red wine). He worked out with weights and aerobically. His good cheer probably helped, too. I especially love that he was so positive about exercise for the disabled and elderly. He believed everybody could and should keep moving.
Caregivers have a million good reasons to snuggle into a Snuggie on the sofa at the end of another loooong day. To cuddle up to a Krispy Kreme reward. To put off that checkup. To get some exercise maybe tomorrow, maybe when it thaws out there. But are the short-term feel-goods worth the long-term trouble?
If you get sick, who will care for your loved one? Who will have to step in to care for you? God knows we can't control every health disaster. But we can try harder to live by the amazing knowledge out there about how to amplify good health and reduce risks. (Knowledge that's not only simple and straightforward but pretty much what Jack LaLanne's been preaching since back in the day.)
Do it for your loved one.
Do it for you.
Do it for Jack.