Reviews of the Week
Senior Care Praise for Holland Home Fulton Manor & LivHOME Houston
Last updated: Aug 21, 2012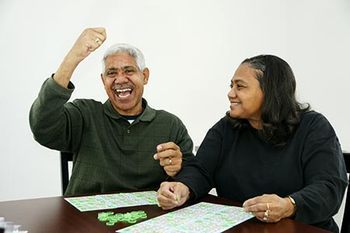 Each week we hear from hundreds of consumers across the country who share praise for senior care providers in the Caring.com Directory. Among the reviews posted last week, these two 5-star ratings are particularly worthy of highlighting...
Assisted Living
Congratulations to Holland Home Fulton Manor in Grand Rapids, Michigan for receiving praise from Terry Torsky, whose uncle is a resident there and helps lead bingo games, taking pride in doing something useful and important for other residents.
"My uncle's kindness has blossomed at Fulton Manor because of the kindness shown to him," Terry wrote. "They care how their residents look and feel. The residents comfort is at the top of their list. They not only care for their physical needs but their emotional and spiritual needs also."
Terry also shared that music is a regular part of the residents' day, there's an on-site chapel and chaplains who call on residents regularly, as well as bingo and crafts.
Read the full 5-star review on the Holland Home Fulton Manor listing on Caring.com. If this assisted living community has helped your family as well, please submit your review here: https://www.caring.com/local/assisted-living-facilities-in-grand-rapids-michigan/holland-home-fulton-manor-1/reviews/new.
In-Home Care
Congratulations to LivHOME in Houston, Texas for receiving praise from "LuAnn2" who hired this provider to care for both of her parents.
"They're excellent! Our caregiver is Mary and we love her," LuAnn wrote. "We correspond by email because it's easier for me while at work. She's always really quick to answer anything I ask. If there's a situation at the house she always real quick to call me...They've been real helpful with different things."
Read the full review on the LivHOME Houston listing on Caring.com. If this in-home care provider has helped your family as well, please submit your review here: https://www.caring.com/local/in-home-care-in-houston-texas/livhome-houston/reviews/new
More Information about Ratings & Reviews on Caring.com
Still have questions about the program, or suggestions for how we can improve it? Please don't hesitate to get in touch with our team!