Reviews of the Week
Senior Care Praise for: Emeritus at Grand Terrace & SYNERGY HomeCare
Last updated: Aug 27, 2012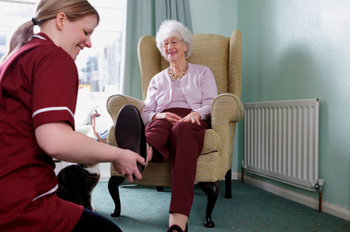 Each week we hear from hundreds of consumers across the country who share praise for senior care providers in the Caring.com Directory. Among the reviews posted last week, these two 5-star ratings are particularly worthy of highlighting...
Assisted Living
Congratulations to Emeritus at Grand Terrace in Grand Terrace, California for receiving praise from "CalGal", an active member of the Caring.com community who visited this facility twice for possible memory care placement for my mother, who suffers from Alzheimer's disease.
"On both visits the staff and residents were very friendly," she wrote. "There are many planned activities that are designed specifically for memory care residents. The staff and program focuses on working within the residents' AD world rather than making them work in the staff's world."
Read the full 5-star review on the Emeritus listing on Caring.com. If this assisted living community has helped your family as well, please submit your review here: https://www.caring.com/local/assisted-living-facilities-in-grand-terrace-california/emeritus-at-grand-terrace/reviews/new.
In-Home Care
Congratulations to SYNERGY HomeCare of Jacksonville in Jacksonville, Florida for receiving praise from "Lynn4" who hired this provider to help relieve her mother's stress level in caring for her father, who has Alzheimer's.
"Home health workers [are] extremely knowledgeable, kind and proactive with needs," she wrote. "Checked in regularly with me and provided understanding of what home health aide was observing and actions to take...They are truly a highly professional team that cares about your family and doing their best to help."
Lynn and her mom liked them so much they increased the hours of service:
"Based on mom's confidence with the help, [we] went from twice weekly to 7 days a week. Synergy was able to accommodate immediately," Lynn wrote.
Read the full review on the SYNERGY HomeCare listing on Caring.com. If this in-home care provider has helped your family as well, please submit your review here: https://www.caring.com/local/in-home-care-in-jacksonville-florida/synergy-homecare-of-jacksonville-south-florida/reviews/new
More Information about Ratings & Reviews on Caring.com
Still have questions about the program, or suggestions for how we can improve it? Please don't hesitate to get in touch with our team!