Older Patients, Wiser Care
Why the Doctor Sometimes Talks to the Caregiver Instead of the Patient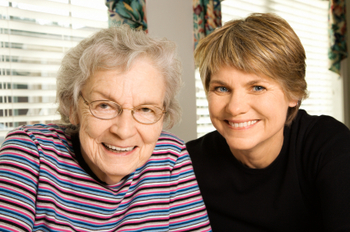 All Rights Reserved
Dear Dr. K,
Why do doctors often avoid talking to older people during primary care visits? I've been bringing my elderly mother to see a doctor whom I've heard is pretty good. But it bothers me that he often ends up peppering ME with questions rather than talking to my mom. She does have some early Alzheimer's, but she's the patient, and I don't think the doctor should be treating her like a child, or like she's not there. Should I think about changing doctors?
It sounds like you're not very comfortable with this doctor's style. It's certainly possible that another doctor might be a better fit for your mother and you.
I'll admit, however, that even as a geriatrician who's used to patients with dementia and who always starts the visit by talking with the patient, I still often end up questioning the caregiver companion. In fact, just the other day, a patient's son frowned at me and asked, "Why aren't you asking him?" as he motioned towards his father.
"Well, I do hope he feels he can jump in, and I hope I've made it clear that his input is very valuable," I said. "But it's usually a lot faster for me to get the important information I need to help your dad by talking with a knowledgeable family member such as yourself. And that means I'll have more time during this visit to explain things, and address the many other issues affecting your dad's well-being."
In other words, although we all want to encourage a patient with dementia to remain as independent and autonomous as possible, it's also often smart strategy to have someone else do the talking during a primary care visit.
This is plain common sense given some of the constraints in primary care:
"¢ Most primary care follow-up visits are scheduled for 20 minutes or less. This isn't a lot of time in which to address the needs of an older patient, especially if several chronic medical conditions are involved. Why aren't visits longer? Well, many primary care doctors still practice in a "fee for service" environment. This usually means that the practice gets paid by insurance (whether Medicare or other) based on how many face-to-face visits happen. Generally, time spent on the phone or e-mail is not reimbursed.
"¢ Many patients with dementia can't reliably provide details that the doctor needs. Developing a sensible strategy to address common problems such as falls, incontinence, or pain depends on the doctor having accurate information about how often and under what circumstances these problems are occurring. Compared to a person with even mild dementia, caregivers are almost always in a much better position to recall and describe this information.
"¢ Many patients with dementia will have difficulty remembering and following up on a doctor's recommendations. Depending on their stage of disease, most people need family and others to at least offer reminders, if not take on most of the responsibility, for managing issues such as taking prescription medications regularly or keeping up with a physical therapy plan to reduce pain. Although ideally a doctor will explain things to both caregiver and patient, many doctors know that what's most important is for the caregiver to understand a plan.
It's unfortunate that I see so many caregivers send loved ones with dementia in to see the doctor on their own, preferring to sit and wait outside. Sometimes, this is the preference of the person with dementia, who may be trying to retain autonomy or a sense of privacy.
In the end, I find myself applying the concept of "benefits versus burdens and risks." Of course, in the context of a primary care visit (or anywhere else), there are real reasons to want to maximize the autonomy and participation of the actual patient. But it's best to also consider what you and your loved one might be giving up, or risking. After all, there's only so much time most doctors can provide in a single visit. And there can be real consequences to missing out on having other questions answered, or a medical recommendation thoroughly explained.
Coming back to your original question about whether to change doctors, I recommend you start by expressing your concern to your mother's doctor. Even a short conversation on the topic can help clarify everyone's position and set the stage for improved communication.
My prescription for caregivers for better checkups:
"¢ Come to the visit prepared with a list of questions and concerns. Even better is if you can do some research beforehand, and bring some of the likely information the doctor will need to address the question. For instance, if your concern is about incontinence, come with information about how often and under what circumstances the incontinence occurs. Always bring a very current medication list; bringing the actual containers is even better).
"¢ Balance your loved one's need for independence and autonomy with everyone's need for reliable information to be passed to and from the doctor. The faster this process happens, the more issues the doctor can address within a limited time frame. You're often the most efficient and effective conduit.
"¢ Find out how available your doctor can be for phone and/or e-mail support. Most doctors' offices offer some phone help as a courtesy, but the best support outside of face-to-face visits comes from practices that have specifically set aside extra time for doctors to communicate with patients. Sometimes this takes the form of call-in lines, which may be staffed by nurses or physician assistants (PA's).In the long run, it can be worthwhile to search out such primary care practices, often large group practices or those run by nonprofits.
"¢ If the practice mainly relies on fee-for-service, ask to have more frequent in-person visits. This is especially important for older adults who have multiple medical problems, which can be hard to cover thoroughly within a single visit. If the doctor isn't able to address everything on your list in a single visit, your best bet is to politely request a follow-up appointment within a few weeks.