Older Patients, Wiser Care
11 Ways We All Can Counter the "Disadvantages of Old Age"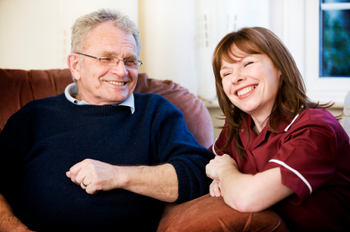 All Rights Reserved
Last holiday season, I shared with you a list of 12 advantages of getting old, which had been given to me by my 83-year-old patient, Mr. R.
A few months ago, I had to say goodbye to Mr. R and many other patients I'd known for years, as I prepared to move my practice from the VA's geriatrics clinic to the Over 60 Clinic in Berkeley, California.
"Doctor, remember that list I wrote for you last year?" Mr. R said at our last visit together. "I came up with a few more points about getting old that I thought you could share with your readers." He pressed a little sheaf of notepaper into my hand.
Despite Mr. R's wry title, some items made me laugh out loud. Better yet, each one reminded me of an * opportunity * we all have to better support an aging relative or friend. So here's his list - and my caregiver twists to them.
The Disadvantages of Old Age, and what caregivers can do about them:
Disadvantage: The girls are still pretty, and probably unavailable. Opportunity: Don't forget to invite elders to join you at parks, shopping centers, or other locations where multiple generations tend to happily mix. Most elders really enjoy the chance to spend time with, or at least watch, younger people.

Disadvantage: The minutes, months, and years are shorter. Opportunity: One of the most valuable gifts we can give our elders is time with friends and family.

Disadvantage: The hills are steeper. Opportunity: When inviting an older person out for a walk -- and fresh air is itself a great idea -- discreetly suggest routes that are flatter and less strenuous. Chances are your older companion will appreciate a path that doesn't remind him that his heart and lungs aren't as robust as they used to be.

Disadvantage: Your get and go has got up and left. Opportunity: Keep encouraging elders to get out and about. Diminishing strength and energy can drain initiative they had before, but most older adults enjoy a new activity once things get going.

Disadvantage: Your hair grows faster and longer. Opportunity: Make sure your loved one continues to have access to a favorite barber or salon.

Disadvantage: The same for fingernails and toenails. Opportunity: A pedicure not only feels great but having trimmed toes makes walking more comfortable and reduces the risk of falls. Consider a podiatrist, especially if the toenails have gotten thick and yellow.

Disadvantage: TV ads are longer. Opportunity: Give your loved one DVDs of full seasons of his or her favorite shows. Even older classics like "The Honeymooners" and "The Waltons" are readily available now. Or try watching a newer hit together, like "The Sopranos."

Disadvantage: Popular music is not so popular anymore. Opportunity: Play the person's favorite music when you visit, or make sure you have it available at your home for older visitors. People with dementia often respond very well to music.

Disadvantage: Other cars go too fast. Opportunity: Offer to play chauffeur or look into local driving services. An older person who's reluctant to drive can be a good thing, because it means he or she knows driving skills are perhaps not as sharp as in the past.

Disadvantage: People go too fast in general. Opportunity: Remember to always allow extra time around older adults. Slow down both the pace of your speech and the pace of activities when doing something together.

Disadvantage: There's less time ahead of you than behind you. Opportunity: Many older people find themselves pondering existential issues as they confront the challenges of aging and mortality. Join or support that conversation. Maybe you could go together to a suitable spiritual lecture, either through church or through a non-denominational venue. Offer a sympathetic ear if and when your loved one seems inclined to talk. Help your favorite elders define and carry out a legacy. You'll both add meaning to your lives in the process.