FYI Daily
Would You Discuss Nursing Home Sex With Your Parent?
Last updated: Jun 27, 2012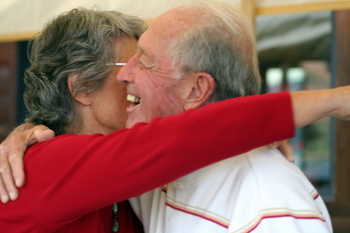 Intimate relationships happen in nursing homes just as they do in any other housing situation. But nursing-home staff and family members often discourage residents from expressing their sexuality, says a report in the Journal of Medical Ethics.
That's because nursing home sex can be uncomfortable for younger generations to contemplate, or because policies are unclear or controversial.
"You get couples who have been living together for 50 years and then they move into a residential care facility. Suddenly they have to have separate beds, and that can be quite distressing for them," lead author Laura Tarzia, a researcher at the Australian Centre for Evidence Based Aged Care, told the NPR "Shots" blog. "But I think it's even more difficult for people who form new relationships in a residential care facility, because then staff don't really always know how to deal with it, and sometimes families have objections."
Things can get even more complicated when the person making or receiving advances, or having sex, has Alzheimer's. Some family members with [power of attorney] seek to make decisions about intimacy. Tarzia, who's working to create a sensitivity self-assessment tool for residential care facilities, says that's inappropriate.
"We need to normalize the idea that older people are human beings," gerontologist William H. Thomas told "Shots." "They have the same needs and same desires they had before. Age changes those needs and desires, but they are still there." "There are laws about consent for sexual activity, by state, but there's no top age on those laws," Thomas says.
Thomas recommends that adult children talk with parents about the issue of sexuality in nursing homes. That seems rather far-fetched, given that most adult children have difficulty navigating conversations about advanced health care directives and living wills or even driving.
Is that a conversation you've had? Plan to have? Or could even imagine?
Image by Flickr user mackenzienicole, used under a Creative Commons license.