FYI Daily
Weight Training May Help Prevent, Reverse Cognitive Impairment
Last updated: Apr 25, 2012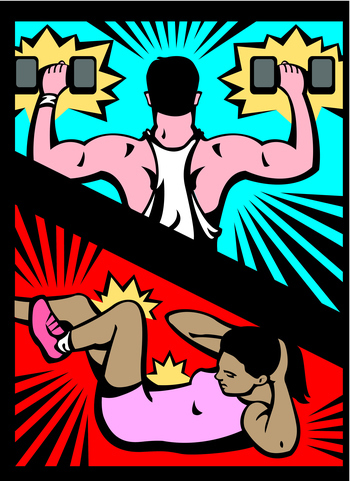 Scientists have known for a while that regular exercise can help keep the mind sharp while people age, but there hasn't been a whole lot of guidance on what types of exercise are best for the brain.
A team of researchers at the University of British Columbia has provided a little more direction with a new study comparing resistance training to aerobic exercise. The team followed 86 women with mild cognitive impairment for six months. After two exercise sessions per week, the resistance training group showed significant improvements in executive function, associative memory, and brain plasticity -- and the aerobic exercise group didn't.
The researchers aren't saying to stop walking or swimming -- they're just suggesting adding weight training to the mix.
According to PsychCentral, the researchers published similar studies in 2010 and 2011 showing cognitive improvements in healthy older women who participated in resistance training programs.
The new study goes one step further and shows that resistance training exercises may reverse cognitive impairment.
"There is much debate as to whether cognitive function can be improved once there is noticeable impairment," said lead researcher Teresa Liu-Ambrose. "What our results show is that resistance training can indeed improve both your cognitive performance and your brain function."
Not sure how to get started with a weight training program? Liu-Ambrose and team also produced a YouTube video showing a few key exercises and ways to do them both at home (without fancy equipment) or at the gym.
As the video notes, weight training is great for the brain -- and it's also great for staying active and independent while aging, since the muscle groups you exercise are the same ones you use to get into the shower, walk up stairs, and most other daily activities.