FYI Daily
Using Taser Force to Get Alzheimer's Cooperation?
Last updated: May 10, 2012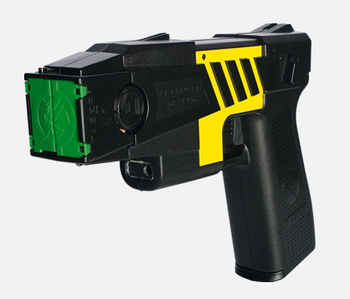 A man with Alzheimer's grew alarmed and agitated at the prospect of being transferred to medical care in a British village. So six police officers aimed 50,000-volt stun guns at 59-year-old Peter Russell -- and shot him.
The former farm worker tried to rip out the Taser darts before officers reportedly tied up his arms and legs, reports The Sun.
"It's the Alzheimer's," his wife tried to explain to the officers as events unfolded right in front of her.
"If he was a wife beater or an armed robber then I could understand it," she said. "But this is someone who will stop his tractor when ploughing a field and move a nest of mice to the side."
The Alzheimer's Society (the British Alzheimer's Association equivalent) called use of the weapon on a dementia sufferer "very alarming." There are better ways to cope with the physical aggression of Alzheimer's.
Alzheimer's Society spokeswoman Sarah Moody said: "People with dementia can sometimes exhibit extreme agitation, which can be difficult to understand and cope with for those who encounter it. This unfortunate incident illustrates a lack of understanding in society of dementia and the best way to support and help people who are affected by this devastating condition."
The Humberside Police said the officers faced a "significant level of violence" and that two of them sustained minor injuries.
Russell, the man with Alzheimer's, had no physical injuries -- but probably substantial emotional ones. Ditto for his wife.