FYI Daily
TV Asks, What If Alzheimer's Had Never Struck?
Last updated: Dec 06, 2011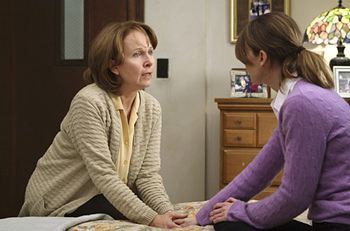 Have you ever wondered what life might have been like if a dementia like Alzheimer's disease had never struck your loved one? What would the effects of an unchanged personality be on all the other family members in his or her orbit? How would your own life and stresses be different?
So goes one of the storylines being planned for next season's award-winning "Grey's Anatomy" TV show. Actress Kate Burton, who in past seasons played Ellis Grey, a surgeon who was stricken with young-onset Alzheimer's disease, and died, is reprising the role for a special "dreamscape episode," Entertainment Weekly reports.
The episode, titled "If/Then" will air in February, during the hit show's eighth season. In the episode, the characters -- including Ellis's daughter, Meredith Grey -- will imagine what life would have been like if there had been no Alzheimer's disease.
And as bittersweet as that line of thinking may be, what dementia caregiver hasn't sometimes wondered the same?