FYI Daily
To End Isolation, Get Older Adults Online
Last updated: Oct 28, 2011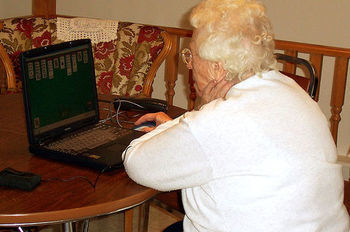 It takes patience, but introducing computers to 80- and 90-year olds pays off in sharply reduced depression, increased social benefits, the brain-stretching thrill of learning something new, and even a rekindling of old hobbies, says a University of Alabama at Birmingham sociologist.
One year into a five-year National Institute on Aging grant to teach Internet classes to this age group, Sheila Cotten says the older adults go from being afraid of "breaking" the computers if they get too close to surfing like their grandkids. Among their favorite activities: e-mailing family, watching You Tube clips of classic movies, reading church bulletins online, and using GoogleStreetView to check out their old neighborhood or childhood homes.
Older adults are one of the fastest-growing demographics online, in part because of easier-to-use technology. And why not?