FYI Daily
Time Change and Seniors
Last updated: Nov 01, 2012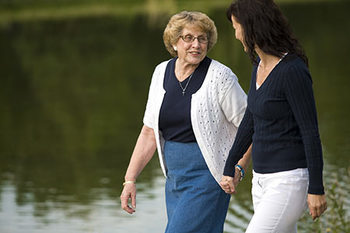 The "fall back" time change on Sunday morning (November 4, 2012) at 2 a.m. is mostly good news for sleep-deprived caregivers -- an extra hour of much-needed sleep. Here, a few more possible effects of the change:
With darkness falling earlier, be mindful of a possible a temporary worsening of sundown sydrome, confusion and agitation that strikes around sunset in some people with Alzheimer's or other forms of dementia.

What helps: During the transition, try to your loved one some good exposure to daylight and minimize napping. See other tactics that can ease the burden of sundowning any time of year.

Even in those without sundowning, sleep patterns can be disrupted by the longer nights of winter -- for caregivers and care receivers alike. This can worsen some existing sleep problems.

What helps: Again, limit naps to under 30 minutes and resist going to bed too early. Try a pleasant but engaging activity -- not too stressful so you get wound up (leave the insurance forms alone!) but not too dull so that you nod off early. Try cards or reading aloud together.

After the time change, don't overlook checking automated systems that run on timers, such as medication dispensers and automatic lights.

While you're setting your clocks back an hour before you go to bed on Saturday night, remember the new slogan: Change your clocks -- change your batteries. Checking or replacing batteries in fire detectors and carbon monoxide detectors is especially important as we head into winter in the homes of frail older adults, who may not keep up with this.