FYI Daily
So About That Low-Sodium Diet Thing...
Last updated: Nov 09, 2011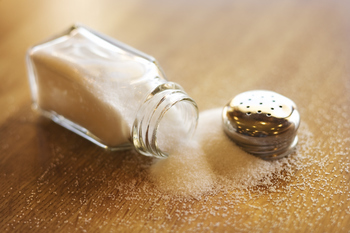 A new study in the American Journal of Hypertension claims that, while reducing sodium may lower blood pressure, it might also increase levels of cholesterol, triglycerides, and certain hormones that have been linked to heart disease.
Lead author Niels Graudal of Copenhagen University Hospital in Denmark compiled the results of 167 previous studies on sodium intake. According to the Washington Post, the study concluded that scientific results "do not support that sodium reduction may have net beneficial effects in a population of Caucasians," though the authors noted that the effect in Asians and blacks might be higher.
The study results are timely -- the FDA is holding a public meeting about sodium reduction tomorrow in Silver Spring, MD -- and, unsurprisingly, controversial.
Reuters reported that several health experts, including Franceso Cappuccio, an expert in nutrition at the World Health Organization, have strongly disagreed with Graudal's findings.
Graham MacGregor, chairman of the World Action on Salt campaign group, said the new study, "contrary to the authors' claims, supports the wealth of evidence that reducing our salt intake will be immensely beneficial in preventing strokes, heart attacks, and heart failure."
Anyone up for some popcorn -- salted or not -- while we watch the academics duke it out?