FYI Daily
Smart Gifts Caregivers Really Need
Last updated: Dec 20, 2011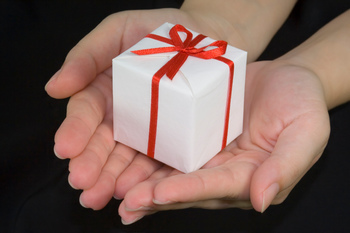 What's on your wish list? If you're a caregiver, probably not an extravagant piece of jewelry -- or most of the stuff found in catalogs and shopping malls.
Columnist Michele Singletary of The Washington Post quotes caregiver and AARP family expert Amy Goyer, who takes care of her aging parents: "The gifts caregivers most want are not big-ticket items," Goyer says. "They are the things that soothe our souls, give us a smile, and make us feel less alone. This is an important and challenging time in our lives, and we often have no idea how long it will continue."
Like what?
How about a gift certificate for six 20-minute venting sessions? When the certificate is redeemed, the giver agrees to simply listen to whatever the caregiver needs to talk about. You can personalize a holiday gift certificate from a template at www.regiftable.com. (Click on the link for "Gift Certificates.")
Or a year of funny encouraging cards? Pick 12 out and send one every month. You can set up a schedule to send e-cards at one of the online greeting card websites. (Just don't sit back and wait for acknowledgement every time.)
Also recommended: Gift certificates to day spas, for meals, or to take over a household chore (such as laundry, transportation) or an administrative task (such as researching care services) for the coming year.
Find out more great gifts for family caregivers and see a caregiver wish list.
And then figure out a way to get this article into the hands of those who can really help you out by providing these virtually no-cost precious gifts.