FYI Daily
Quick! How Many Meds in Your Pillbox?
Last updated: Apr 17, 2012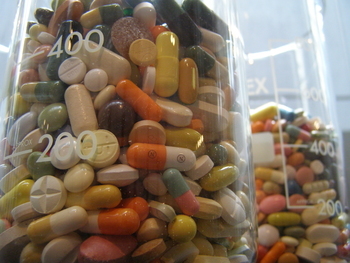 Is your loved one a "walking pharmacy"? That's how writer Jane Brody describes her 92-year-od aunt in a New York Times "Personal Health" column on new guidelines for managing medications in older adults that were published in The Journal of the American Geriatrics Society recently.
More than 40 percent of adults over age 65 take five or more medications. The risks of too many medications are considerable. Every year, about a third of them experience a serious adverse effect from the drugs, such as a fall that breaks bones, disorientation, urinary trouble, and heart failure. Medication mistakes, whether made by prescribing doctors or patients, can kill.
The so-called Beers Criteria, guidelines used to minimize the dangers of poly-pharmacy and drugs inappropriate to the oldest adults, were recently reviewed by an interdisciplinary panel of 11 experts in geriatric care and pharmacology. It came up with three groupings:
Drugs to avoid in general in the elderly -- such as anticholinergics (Benadryl and Tylenol PM, for example)

Drugs to avoid in older adults with certain diseases and syndromes (such as antiinflammatories, including over-the-counter types, in adults who take medications like prednisone and warfarin)

Drugs to use with caution in the elderly if there are no acceptable alternatives
Brody doesn't give a lot of examples from the revised guidelines, pointing out that every case is individual and a doctor has to weigh risks and benefits. Her aunt was nearly killed by a cascade of complications related to her taking 13 different drugs, vitamins, and supplements. Hospital doctors stopped some of the meds, changed some, and added others; after a collapse she fractured three ribs during CPR, developed double pneumonia, then slept for 30 hours straight following a dose of Ativan, a sedative. Miraculously, she's recovering in rehab.
Preventing medication mistakes requires lots of caregiver vigilance as well as doctors understanding the unique needs of older adults' bodies. Be sure to ask about possible side effects to watch for with every new prescription and report bad or odd reactions right away. Don't hide use of alcohol, recreational drugs, supplements, or over-the-counter meds from the prescribing doctor. Every bit of information can make a life-or-death difference.
Image by Flickr user erix!, used under a Creative Commons license.