FYI Daily
Oops: FDA Warns of Possible Pill Mix-Up
Last updated: Jan 09, 2012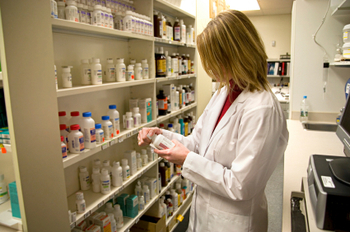 A drug manufacturing plant in Lincoln, Nebraska, may have had mechanical problems causing pills to go in the wrong bottles, according to CNN. The FDA has warned consumers who take over-the-counter medications produced by Novartis (including Excedrin, Bufferin, NoDoz, and Gas-X) or prescription pain medications from Endo Pharmaceuticals (like Percocet, Opana and Percodan) to visually check their pills and make sure they're the right ones.
According to Edward Cox, director of the Office of Antimicrobial Products at the FDA, while the problems at the factory could mean a discrepancy between drug labels and the actual contents of the bottles, "The likelihood of this occurring in medication dispensed in patients is estimated to be low." Pharmacists will also manually inspect the drugs, and patients who find mismatched pills are encouraged to stop taking them and call their doctors.
The plant in question has been shut down for the foreseeable future while they do maintenance work on the equipment. While this may lead to a temporary shortage of these medications, Endo Pharmaceuticals said, "This temporary supply disruption is not related to the efficacy or safety of these products."
You can download Endo Pharmaceuticals' visual guide to their pain medications here.
The Novartis drugs affected include Excedrin and NoDoz products that expire December 20, 2014, or earlier and Bufferin and Gas-X products that expire December 20, 2013, or earlier.
Worried about medication mix-ups? See 5 other medication mistakes to avoid.