FYI Daily
On Edge Lately? Maybe It's the French Fries
Last updated: Mar 14, 2012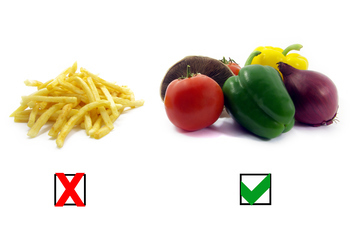 If you've been fighting the allure (and aroma) of fast food french fries, here's another weapon in your mental arsenal: In addition to being unhealthy, fried foods may make you irritable and aggressive.
Researchers at the University of California, San Diego Medical School recruited almost a thousand volunteers to complete a dietary survey and behavioral assessment that included questions about past and recent bouts of aggression, impatience, and irritation.
"We found that greater trans fatty acids were significantly associated with greater aggression, and were more consistently predictive of aggression and irritability, across the measures tested, than the other known aggression predictors that were assessed," said Beatrice Golomb, an associate professor in the UCSD Department of Medicine.
And that was true for every group tested -- men and women, Caucasians and minorities -- said Psych Central.
While more research is needed to establish a causal link between trans fats and aggression, this study isn't making trans fats look any healthier.
Researchers have known about the health risks associated with trans fats almost as long as they've been used. Proctor and Gamble started marketing Crisco in 1911, and by the 1940s, Catherine Kousmine was researching their links to cancer. Since then, plenty of studies have looked into trans fats' negative effects on the cardiovascular system.
But while past studies focused on the harm that trans fats can do to an individual, this study, published in PLoS ONE is one of the first to focus on societal harm.
"If the association between trans fats and aggressive behavior proves to be causal, this adds further rationale to recommendations to avoid eating trans fats or including them in foods provided at institutions like schools and prisons, since the detrimental effects of trans fats may extend beyond the person who consumes them to affect others," said Golomb.