FYI Daily
In Dementia, Both Loss and Gratitude
Last updated: Dec 09, 2011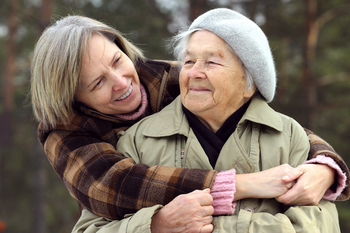 Dementia was "just a word" to biological anthropologist Barbara J. King until her own mother was diagnosed. After a period of stability with vascular dementia, she recently experienced steeper cognitive declines following a surgery. Since then, King, writing for NPR, says she's wondered time and again:
"What must it feel like for her, plucked so suddenly from the familiar contours of her life, and everything now somehow dimmer?"
Lately, King says, she's begun to feel something beyond the "innumerable sadness" (and the impatience, and the guilt) of the cumulative losses of her mother's dementia. She's begun to feel gratitude, she says. That's surely been a peculiar, unexpected emotional experience shared by many caregivers to a loved one who has Alzheimer's or another dementia.
King -- in eloquent turns of phrase -- offers up her gratitude for a wide circle: (Can you relate?)
Caregivers at her mother's assisted living facility
Family and friends who understand what she means -- and give their ears and hugs -- when she explains she's had a "bad dementia day"
Colleagues and strangers who share their own experiences
Doctors and researchers working to eradicate the disease
And her own mom, who is still with her, and "a person who matters for who she is now."