FYI Daily
How to Improve Being Hospitalized at the Holidays
Last updated: Dec 22, 2011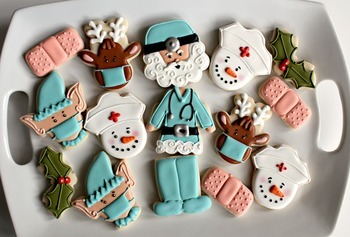 Being in the hospital is a stressful experience. But being in the hospital over the holidays can add depression and disappointment to the stress. That's because holidays are associated with social interactions and sharing emotions, says University of Alabama at Birmingham clinical psychologist Joshua Klapow, in Newswise.
So why not bring those qualities right to the hospital room, he suggests. You can make the holidays brighter for a loved one who is hospitalized during the festive season in a bounty of ways, he adds:
Set up Skyping or other video communication services so your loved one can "visit" with distant relatives.

Bring decorations -- flowers, stockings, garlands, even lights.

Diet permitting, bring the person's favorite seasonal treats. Or ask the nurses if it's possible for hospital chefs to arrange something special.

Arrange for a licensed massage therapist to come to the hospital and provide a massage for your loved one if you're given a green light by medical staff that it's okay for the patient.

Bring in a player for the person's favorite holiday music. Or ask the staff about in-room music therapy, a service that many hospitals now provide.

Engage in everyday activities like games or knitting together, which help distract the patient from the hospital activities and focus on "home."

Visit often.
Says Klapow: "Focus on the meaning of the holiday, and not so much the environment."