FYI Daily
Hospitalization Speeds Cognitive Decline
Last updated: Mar 23, 2012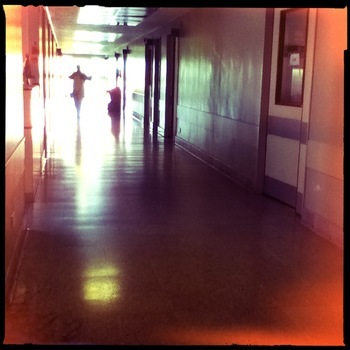 Many caregivers have noticed that their loved ones' thinking skills and memory seem worse after a hospitalization and wondered if there's a link. Yes, there is, says a large new study in the journal Neurology.
Hospitalized adults 65 years of age and older experience cognitive decline that's an average of 2.4 times faster than those of the same age who haven't been hospitalized, researchers say. The 1,800 subjects, who had normal cognitive decline associated with aging (not a diagnosis of Alzheimer's) were given a baseline cognitive test and then followed for an average of nine years. The same cognitive test was repeated at least three times at intervals of three years.
Normal age-related declines in cognition in the hospitalized subjects was found to accelerate regardless of the reason for the hospitalization or how long the stay lasted.
"We were expecting that there might be some effect but I didn't expect it to be this big, this broad," Robert S. Wilson, a professor of neurological sciences and behavioral sciences at Rush University Medical Center, told CNN. The decline, he said, "had seemingly little to do with the illness that put them there in the first place. It's a very striking finding and somewhat worrisome."
There hasn't been a study yet that's defined the reason for cognitive changes after hospitalization. One theory researchers are considering: long-term effects of hospital delirium.
Commenting on the study, National Institute on Aging deputy director Marie Bernard (not associated with the study) suggests caregivers work to avoid unnecessary hospitalizations by forging a close partnership with their loved one's primary care doctor, and reporting new symptoms quickly.
Image by Flickr user morrissey, used under a Creative Commons license.