FYI Daily
Guide Dogs for Dementia Care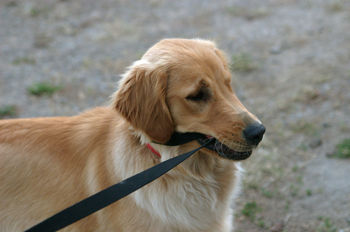 All Rights Reserved
You've heard of guide dogs for the blind and the disabled. How about a trusty Golden Retriever or lab to guide your loved one with dementia? That's the premise being tested in Scotland.
Alzheimer's Scotland and Dogs for the Disabled are working together on a "guide dogs for the mind" experiment, which was conceived by design students at the Glasgow School of Art. The first dogs will be assigned to four couples in Scotland this September. In each couple, one of the pair has mild dementia.
"People in the early stages of dementia are still able to live a relatively normal life, and dogs help to maintain routine," Joyce Gray of Alzheimer's Scotland told The Independent.
The dogs are trained to respond to sound triggers. The sounds prompt them to perform care tasks. For example, a dementia guide dog might wake the person with dementia up in the morning, deliver a bite-proof bag of medicine, or deliver notes to fix a meal, while leading the master to the proper cupboard.
Walking a dog provides both exercise and social benefits, too. In one test, developers found that someone with mild dementia who was walking a dog had far more community engagement, with people smiling at and talking to him than when he walked alone.
Pet therapy for Alzheimer's patients is an idea that's been around awhile. Animals have been found to lower anxiety and stress, encourage communication, improve mood, and lower blood pressure, for example. Animals -- even robotic ones, along with furry toys and dolls -- are often used in formal programs for Alzheimer's patients in the later stages. What's different with the dementia guide dogs is that they play an active role in patient care.
What gets trickier: What will happen to the dog-master relationship as Alzheimer's progresses and the person with dementia can no longer read notes, or risks eating the dog food instead of his own. (The test is being conducted with caregiving couples, for now.) But ideally, this innovative idea helps prolong independent living for those who have relatively mild cognitive deficits.
Image by Flickr user mikecpeck, used under a Creative Commons license.