FYI Daily
Forget Car Trouble, Wheelchair Trouble Is Increasing
Last updated: May 09, 2012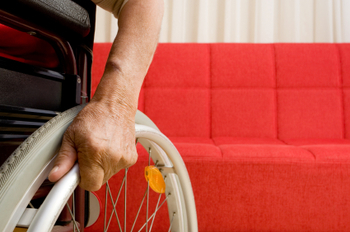 Having a car break down is a lot of things: Frustrating. Irritating. Expensive.
Having a wheelchair break down? Try hazardous and potentially life-threatening.
According to researchers at the University of Pittsburgh, wheelchair problems happen way too often. About 53 percent of the study's 700 participants, all with spinal cord injuries, had to take in their wheelchair for repairs within the first six months of owning it (which, presumably, is a lot more difficult than taking a car in for repairs).
This is up from 45 percent between 2004 and 2006, and researchers think "changes in reimbursement policies and a lack of enforcement of standards testing" might be to blame.
Even worse, adverse effects from these wheelchair malfunctions rose too -- including users being left stranded, being unable to go to their doctor's appointments, or even being injured by the malfunction.
According to MSN, some kinds of wheelchairs are less reliable than others. Power wheelchairs broke more often than manual wheelchairs (probably because they have more moving parts), and wheelchairs paid for by Medicare and Medicaid broke more often than those paid for by private insurance (probably because more expensive wheelchairs are more reliable).
In addition, minority wheelchair users had more problems than white wheelchair users -- and also were less likely to have a backup wheelchair to use if their main one was broken.
"This paper should serve as a call to reevaluate and revise current policies and standards testing for wheelchair prescription in the United States," said lead researcher Michael Boninger and team.
For more on wheelchair design (and mis-design), check out this interview with designer Michael Graves, who's been in a wheelchair since 2003.
And for more on the frustrations of life in a wheelchair, here's an interview with physician and filmmaker Gretchen Berland about her film Rolling.