FYI Daily
Flu Vaccine and Seniors
Last updated: Dec 05, 2012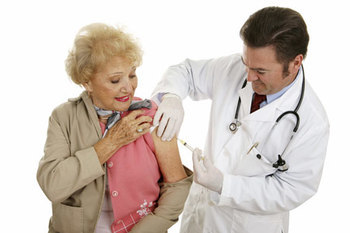 President George H.W. Bush, 88, copes daily with effects of mild Parkinson's disease -- but it was a garden-variety bug that sent him to a Houston hospital. Bronchitis, inflammation of the tubes that lead to the lungs, can produce difficulty breathing, shortness of breath, and a painful lingering cough. Most dangerously, it can lead to pneumonia, which is often deadly. Bronchitis is usually caused by a virus, typically influenza (flu).
Don't let such common illnesses wreck your holidays:
Consider a flu shot a kind of "gift."
We're all busy with shopping lists this time of year. But getting an older loved one immunized -- and doing the same for family members in close contact or the same household -- can help preserve the most precious gift of all, life. Flu kills 3,000 to 49,000 people in a typical year, says the CDC. Nine in 10 flu deaths, and 60 percent of flu-related hospitalizations are in those 65 or older, says the National Council on Aging.

Act fast; flu season is hitting early and hard.
It's the earliest flu season in years, according to the CDC. That, plus the presence of a virulent (catchy) strain suggests a "bad year," says CDC director Thomas Frieden. The South and South-Central regions are being especially hit, but influenza is showing signs of expanding nationwide. More than 60 percent of adults haven't had a flu shot yet, however, says the CDC.

Ask your doctor about the newer high-dose flu shot.
Fluzone High-Dose seasonal influenza vaccine is especially designed for people over 65. As you get older, your natural defenses weaken, which is why older adults are so vulnerable to flu and its nasty effects. In Pres. Bush's case, the Parkinson's adds concern because its limited mobility can affect breathing function and make it harder to recover from bronchitis.

Don't take 'No" and other protests for an answer. See how to convince someone to get a flu shot. Best of all: Medicare covers flu shots.

While you're at it, ask your doctor about other shots.
This being National Immunization Awareness Week, it's worth noting that older adults are often short in several potentially life-saving vaccinations. Key vaccines often missed include those that protect against shingles, pneumonia, and whooping cough/diphtheria/tetanus (a booster is needed every 10 years).