FYI Daily
Federal Nursing Home Ratings Skewed by Dementia Care
Last updated: Nov 29, 2011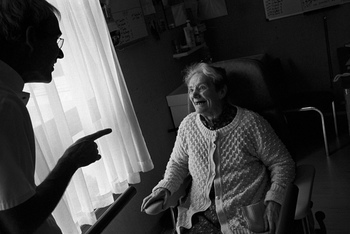 Thinking about the possibility of placing a loved one with dementia in a long-term care facility? Don't just go by the government ratings, says a new study in the November, 2011, Journal of the American Medical Directors Association.
Medical News Today reports that the scoring system used by government agencies to rate nursing home quality fails to provide an adequate evaluation because it doesn't take into account the degree of dementia of their patient populations. Nor does it consider whether facilities include a specialized dementia unit. This is especially problematic when you're looking to place someone with dementia.
Often facilities with the most experience in dementia care receive low scores because of worsening behavioral or cognitive symptoms, which would seem to reflect poorer quality of life but instead, the researchers say, simply reflects the natural progression of the disease. In general, they add, facilities with fewer cognitively impaired residents receive better scores than those with more people with cognitive impairment.
That's not to say there aren't many low-quality "warehousing" facilities for residents with dementia. But it is a good reminder that you have to examine multiple factors when making a choice.
When looking for a nursing home, the lead author of the study, geriatrician Arif Nazir of the Indiana University School of Medicine, suggests looking at patient-to-staff ratio, whether prompt quality medical care is available to residents when needed, the cleanliness of the facility, and proximity to family, among other indicators.
Federal ratings for quality are currently being revised, but it's not clear how quality of care for those with dementia, specifically, will be addressed, the study authors say. Until then -- and yes, even afterward -- caregivers would do well to do their homework in multiple ways, and trust their instincts.