FYI Daily
Ernest Borgnine's Last Movie
Last updated: Dec 11, 2012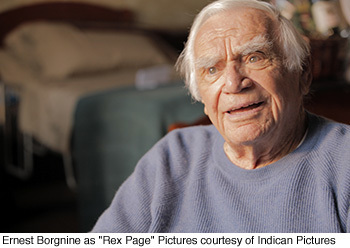 If your holidays include some movie-going, consider seeing a little picture with a big name, "The Man Who Shook the Hand of Vicente Fernandez". It's interesting even aside from the remarkable fact that it stars a lively Ernest Borgnine, in his final role before he died in July, 2012, at 95.
Early reviews have been middling (though with applause for Borgnine). But "The Man Who Shook the Hand of Vincente Fernandez" is noteworthy because of its setting: A nursing home that Borgnine's character moves into following an accident.
This nursing home backdrop isn't used to explore the tragedy of a disease, like Julie Christie's early-onset Alzheimer's, which led to her move to a dementia-care facility in "Away From Her." It's not about a family exploring assisted living options for a loved one. (See: "The Savages".)
"The Man Who Shook the Hand . . ." is a comedy about a former would-be actor who loves Westerns and once had a brush with fame with "the Mexican Frank Sinatra" (the title character). Its senior living setting is simply the stage for villains, heroes, families, friends, and their usual human connections.
Movies have long been set in the places of our lives.
Moviegoers of a certain age cut their teeth on beach-blanket movies. They watched flicks set in high schools and soda fountains, in late-night diners and bars, in expansive lofts and suburban houses, in corporate offices and factories, in casinos and resorts. And now this population of born moviegoers is in another phase of life.
Now movies are happening in senior living communities.
Earlier this year, "The Best Exotic Marigold Hotel" followed British retirees to a "retirement hotel" in India. Maybe we're about to see Meryl Streep learn yet another new accent for a drama set in a rehab facility. Or Tom Hanks and Meg Ryan will reunite for a chick flick (or hen-and-rooster flick?) set in assisted living. Someone's bound to win an Oscar as an inspiring figure -- who happens to be in hospice. It happens. And what happens in real life, happens on the silver screen, too.
That can't help but make for some interesting -- and hopefully improved -- difficult conversations about senior housing with family members facing their own care changes.
Watch the preview for the movie now: