FYI Daily
Eating Fish Might Lower Alzheimer's Risk
Last updated: Nov 30, 2011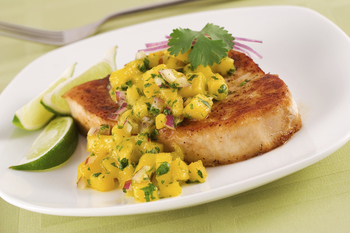 Here's another reason to opt for the salmon over the steak: A new study shows that eating baked and broiled fish at least once a week may lead to a larger brain volume in areas related to memory and learning.
Cyrus Raji, a resident at the University of Pittsburgh Medical Center, and his colleagues followed 260 healthy senior participants over 10 years. The participants had 3-D MRIs and completed the U.S. National Cancer Institute Food Frequency Questionnaire.
The brains of the people who ate fish at least once a week were larger in the hippocampus, precuneus, posterior cingulate and orbital frontal cortex regions than the brains of the people who didn't. Raji linked the larger brain size to a lower risk -- about five times lower -- of Alzheimer's and other memory issues. Raji and his colleagues also noted that those who ate fish appeared to have better "working memory."
Raji told USA Today that eating a half-serving of fish a day "would be a very small lifestyle change that can affect disease risk a long time down the line."
Of course, the link between fish and a lower Alzheimer's risk is only by association at this point, not causal. Richard Lipton, vice chair of neurology at the Albert Einstein College of Medicine in New York City, pointed out that the lowered risk could be due to some other food or lifestyle factor. Maybe people who eat fish exercise more, or eat more spinach with their fish, or something like that.
In any event, it doesn't seem like a bad thing to consider adding some salmon or swordfish to your shopping list sometime soon.