FYI Daily
Easier Airport Screenings for 75-Plussers
Last updated: May 28, 2012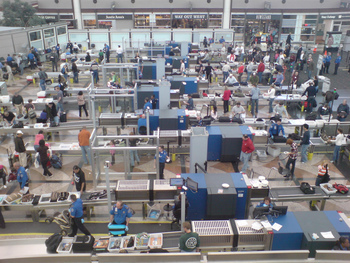 Good news for anyone who's witnessed a stressed or befuddled older adult struggling to remove his or her shoes at airport security -- or who's been the escort trying ever-so-patiently to help. Beginning this Memorial Day holiday weekend at three New York City airports, those over age 75 no longer have to remove shoes, belts, and jackets, according to [AFP].
The plan may be rolled out nationwide, says the Transportation Security Administration (TSA).
"Seventy-five-plus is in the process of being rolled out and customers will see it over the course of the summer and beyond," said David Castelveter, chief spokesman of the TSA.
Travel is stressful enough even before the hustle and organized chaos of the security screening lines. Travel with someone with dementia can be especially fraught for caregivers. Airport hubbub can add to a loved one with dementia's disorientation, and being asked to disrobe can escalate confusion and an agitated mood.
The newly-relaxed airports are JFK, La Guardia, and Newark. Previously, this change had been tested in Chicago, Denver, Orlando, and Portland.
Image by Flick user Inha Leex Hale, used under a Creative Commons license.