FYI Daily
Doc Visits: It's Good You Came Along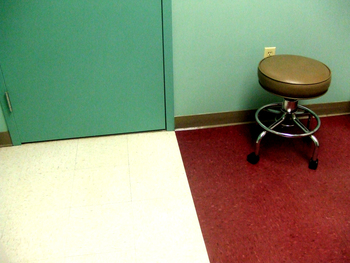 All Rights Reserved
Caregivers accompany their loved ones to doctor appointments for many different reasons: to provide transportation, to see the patient safely from the car to the waiting room to the exam --- and to be a second pair of eyes and ears in giving and receiving medical information. That last reason can make a real difference in medical care, researchers say. And they wish more doctors would pay attention and utilize caregivers to improve care.
Researchers at the Johns Hopkins Bloomberg School of Public Health found that three-quarters of older adults were accompanied to doctor visits, almost always by the same companion. Of these companions (mostly spouses and adult children), 70 percent provided the doctor with information, 67 percent asked questions, and more than half relayed the doctor's instructions to the patient.
Reporting in the January 2012 issue of the Journal of the American Geriatrics Society, the researchers say this shows that caregivers have an important role in providing care that doctors would be well-served to pay greater attention to.
"Continuity of care is a central tenant of an effective patient-provider partnership," said Jennifer L. Wolff, PhD, lead author of the study and an associate professor with the Bloomberg School's Department of HealthPolicy and Management, in medical Xpress. "This work suggests that quality of care improvements may result from more productive communication and education that targets both patients and their companions."
The doctor-patient-caregiver relationship is as important as it is unique. So keep coming along -- and speaking up.
(Hear a geriatrician's perspective on why doctors often prefer to talk to caregiver, rather than patients.)