FYI Daily
Byron: Mad, Bad, and...the First Celebrity Dieter?
Last updated: Jan 04, 2012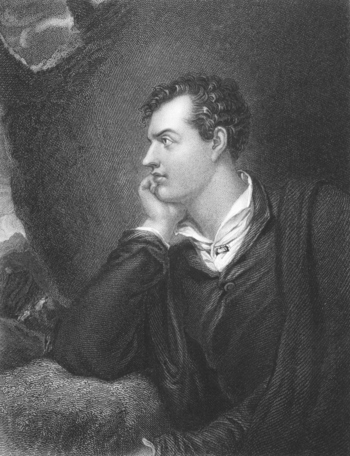 George Gordon Byron is famous for his Gothic poetry, his dalliances with fashionable (and usually married) ladies, and his role in the Greek War of Independence. But your college English professor probably didn't mention Byron's dieting habits.
According to historian Louise Foxcroft, writing for the BBC, Bryon stuck to diets that will make yours look like a cakewalk: At Cambridge, he ate soda water and biscuits or vinegared potatoes, and at Villa Diodati in 1816, he subsisted mostly on thin slices of bread, vegetables, and tea.
Byron also wore heavy wool sweaters to keep off water weight and smoked cigars to curb hunger pangs (don't try this at home). Along with other "stylish men-about-town," like Beau Brummell, the famous Regency fashion icon, Byron weighed himself frequently at Berry Bros and Rudd, a wine merchant in St. James's, London.
But Byron wasn't just an extreme dieter -- he was also a celebrity dieter.
"Because of Byron's huge cultural influence, there was a great deal of worry about the effect his dieting was having on the youth of the day," Foxcroft said. "Dr. George Beard attacked the popular Victorian association between scanty eating and delicacy of mind because impressionable Romantics were restricting themselves to vinegar and rice to get the fashionably thin and pale look."
Beard said, "Our young ladies live all their growing girlhood in semi-starvation" because of Byron's influence. As for Byron's own viewpoint on women and dieting? "A woman should never be seen eating or drinking, unless it be lobster salad and champagne, the only truly feminine and becoming viands."
Lobster salad and champagne doesn't sound like a terrible diet, but you may want to skip the vinegared potato, soda water, and cigar regimen this year, New Year's resolution or not.