FYI Daily
Bed Rail Safety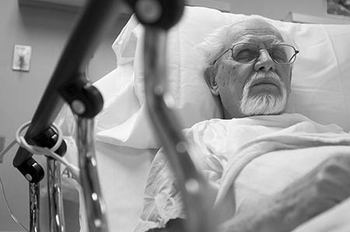 All Rights Reserved
Worried about a loved one falling out of bed? Don't rely on bed rails to keep him or her safe, says a new report in Biomedical Safety & Standards, a newsletter for medical-device safety professionals.
Though portable bed rails are often marketed as safe, they can increase the risk of injury and death.
That's not news in eldercare. After almost 1,000 cases of entrapment of frail seniors, and 484 deaths, were reported to the FDA between 1985 and 2010, long-term care facilities have been phasing out use of bed rails. But many caregivers rent them from hospital-supply stores for use at home.
Some stay-safe guidelines:
Don't believe everything you hear.
The BS&S report specifically calls out products advertised as being able to make "any bed a safer bed" because it's an unproven claim. Safety standards exist for bed rails for children, but not adults.

Be sure of the big picture of why bed rails seem needed.
Correctible incontinence often keeps getting people up at night, for example. Or poor balance and dizziness may be adding to unsteadiness.

Consider all the alternatives.
The challenge is that while bed rails are often unsafe, the alternatives can be, too. Those who fall out of bed risk breaking bones, for example. Lower mattresses can help, such as a hospital bed on its lowest setting or a platform bed, which doesn't require box springs. Or consider a mattress on the floor (to cushion falls) or a motion alarm system (to notify a caregiver help is needed getting up).

Choose newer hospital-bed and bed-rail systems, if you feel you must use them.
Snug-fitting mattresses can help avoid a gap that traps a frail adult.

Get professional advice.
Caring.com senior medical editor Leslie Kernisan, a geriatrician, suggests consulting with a geriatric care manager or geriatrician about the best bed set-up for your loved one's particular situation.