FYI Daily
Alzheimer's Agonizing Decision Hits TV
Last updated: Feb 23, 2012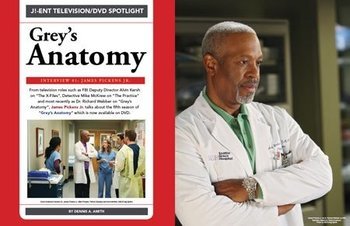 One of the goals of the new National Alzheimer's Plan draft is to heighten public awareness of Alzheimer's and its related issues. Well, nothing like a juicy plotline about the disease and its related difficult issues on a wildly popular TV show to do the job. And the plot is thickening on "Grey's Anatomy," where Alzheimer's has long been a thread of interest.
The character Richard Webber, played by James Pickens, Jr., once had an affair with a woman who later developed Alzheimer's disease. Now --improbably, unluckily -- his wife, Adele, played by Loretta Devine, has Alzheimer's, and it's progressively getting worse, reports TV Guide.
The big question being examined: How long can the busy doctor continue to care for her himself?
"It's obvious now that the Alzheimer's is making her a danger to herself and possibly others. We have something coming up that really brings the seriousness of her condition to the floor and forces him to act right away," Pickens, Jr., told TV Guide.
He added: "He still loves Adele very deeply, and he doesn't want to think about the possibility that there may have to be some other options made in terms of her living arrangements and her being cared for. He doesn't want to make that decision right now."
It's an issue on every Alzheimer's caregiver's mind -- either in a concrete "should I?" way or an abstract "will I someday?" way, or, like the Webber character, in a firm "no way."
How realistically a soap-opera drama portrays the disease and those affected is subject to interpretation. (Many caregivers have felt that every single day as an Alzheimer's caregiver is like living inside a comedy-drama.) At minimum, simply having the pathos of Alzheimer's out there on the small screen for millions to see and learn about surely raises awareness -- not to mention gives millions of caregivers a plotline they can relate to.
Image by Flickr user kndynt2099, used under a Creative Commons license.