FYI Daily
Abigail Van Buren and Alzheimer's
Last updated: Jan 28, 2013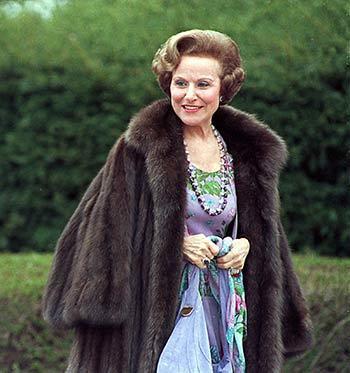 By the time Abigail Van Buren -- a.k.a. "Dear Abby" -- died with Alzheimer's disease last week at 94, she hadn't written her famous advice column for years. (Her daughter, Jeanne Phillips, took over advice-dispensing duties back in 1987.) But in addition to her legacy of snappy wisdom penned over the 30-plus years she wrote her syndicated column, Abby leaves us with some parting insights about Alzheimer's:
Plan for the long haul, because you can't know how long someone with the disease will live.
The former Pauline Phillips was diagnosed with Alzheimer's in 1996, although her family says she had symptoms of the disease for years before. So she may have lived with Alzheimer's for 20 years.
Certain factors help roughly estimate life expectancy with Alzheimer's, such as the severity of symptoms and age at diagnosis. But predictions are very hard to make, as the rate of progression is different for everyone.
The only certainty is that Alzheimer's is a progressive disease that gradually worsens over time. An understanding of the next stage of disease can help families make plans for care, finances, and more.
Whether or not to tell the person with Alzheimer's that she or he has the disease is a family matter.
Interestingly, Abby's family elected not to tell the woman who trafficked in hard truths that she had the disease. (Dear Abby famously wrote about sex, AIDS, hospice, and other often-avoided topics.)
The usual advice from experts is that the person with dementia has a right to know the diagnosis. Says Caring.com senior medical editor Leslie Kernisan, a geriatrician, "Being told you have an incurable disease such as Alzheimer's is very difficult to hear, but every patient is entitled to autonomy. This means you should be able to make decisions for yourself -- instead of doctors deciding what's best, which is how things used to be. And to make decisions, you need reasonable, accurate information about your condition, including what to expect."
But there's no one-size-fits-all answer, she adds. People with the disease are generally aware of what's going on, especially at first. Getting someone to understand and admit she has Alzheimer's disease isn't necessarily as important as helping her understand and cope with issues related to her memory loss, says advance practice nurse Geri Hall, another Caring.com expert, who specializes in Alzheimer's disease care.
Caregivers matter!
"We call them angels because they are who are with her 24/7," Abby's late son, Eddie Phillips, once said of the squad of caregivers who looked after his mother at her Minnetonka, Minnesota, home at the end of her life. Eddie Phillips, a businessman who, with others, donated millions to start the Mayo Clinic 's Abigail Van Buren Alzheimer's Disease Research Center, died in 2011.
"She loves visitors," he also told ABC News's Dr. Tim Johnson. "She loves to get out. And when she gets out she still wears her Dear Abby sweatshirt and loves to smile and wave and blow kisses."
And that's perhaps another bit of legacy from Dear Abby: that the person you love with Alzheimer's is still there. Caregivers know that, of course.
In 1980 -- years before her own diagnosis -- her column printed this question: "Dear Abby: About two years ago I began to notice a change in my husband. He became increasingly forgetful and easily confused. Have you ever heard of Alzheimer's disease? I feel so helpless -- how do others cope with this affliction?"
Abby's reply started this way: "Dear Desperate: You are not alone."