Dear Family Advisor
I've already lost my mom -- I don't want to lose my brother and sister, too.
Last updated: Apr 13, 2011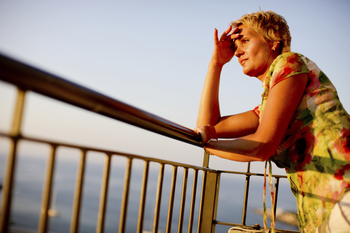 Image from istockphoto
Mom died of colon cancer six months ago. I'm a nurse and took leave to care for her in the last year of her life. During that time my brother and sister came over often. It was a difficult but special time in all of our lives. Since then, I've returned to work, though I'm barely hanging on. I've gone on antidepressants, but it feels like nothing is helping.
What's making this so difficult is that our family has gone its separate ways. I haven't talked to my brother since the funeral, and I've only had dinner with my sister once because I insisted and wouldn't take her excuses. I don't know if they're upset with me or just don't care. We had a few arguments in the last weeks of Mom's life -- she was in hospice and had signed a living will and only wanted palliative care for the pain, but nothing else. Both my siblings wanted her to fight, but I honored my mother's wishes since I had power of attorney, and I knew Mom wanted to go. I don't know if that's what's between us. How do I broach the subject?
It's time to forge a new relationship with your siblings. Reach out to them with an eye on the future, not the past.
It's possible that right now you represent the time in life when your mom died, because you were so involved in her passage. They may look at you and still see a "death halo." And they likely have their own regrets, resentments, and fears to work through. One of the most ironic gifts that come to caregivers who go the distance, so to speak, is that often they're cleansed through the dying process. They finished something monumental and faced their own thoughts and misconceptions about death and dying. It's not easy, but you can begin to see the good this experience with your mom gave to you.
Or there could be other things causing your siblings' reaction. But whatever their issues are, that's their deal, not yours. I wouldn't prod or poke at it. Give them permission to talk freely to you, if they want or need to, but other than that, let it go. Try not to assume what they're angry or hurt about. You could be way off, thus creating yet another problem. Possibly they need to talk to a counselor, clergy, or someone else outside the family circle right now rather than to you.
But you can start to rebuild your relationship on another level. Call every Sunday afternoon, or whatever day they might pick up your call. Be consistent, so they start to expect it. If you have to leave a message, be upbeat. Ask about their lives. Make an effort to know what's going on with them and their families -- ask about an upcoming graduation of a child or about a possible raise at work, or share a common problem such as a weight-loss goal. Ask for help on the computer or something else they're good at. People come together at points of need, so gently create a need that they can easily give you advice about. Send funny cards. Send a gift card for a coffee or a movie. Be generous.
And give all this a good six months before expecting anything back. Do it because you want to. Make an ongoing list of what you like about your brother or sister: an ability to tell a great joke, that he gives his time to Habitat for Humanity on the weekends, that your sister has the most amazing green thumb. Start seeing the good in them.
At the same time, rekindle or seek out other friendships. Our family members may have issues (some of them with us) that we simply can't fix. But there are other people who genuinely like you. Friendships are crucial areas of our lives but can dwindle during caregiving. Invite a coworker to the movies, or plan a three-day cruise with an old friend. If you see a neighbor who regularly walks, ask if she'd like a buddy once in a while. Take a chance. Smile and get out there!
Then examine all the areas of your life: Where are you out of whack? Are you playing enough, moving enough, eating greens and lean protein? Make a plan to be a "new you" this time next year. Find classes or people to commit to on a regular basis. Create a "vision" board: Cut out pictures from magazines of the next car you want, the body you want, that dream trip you've always wanted to take. Start a savings jar with two or three dollars a day to begin with, and watch your nest build. You'll be much more attractive to your family members, your friends and coworkers, and to the most important person -- yourself -- when you focus on the life you want.
In addition, if you haven't attended a bereavement group, think about doing so. You may feel stuck because you still need to work through some of your grief over your mom, and you haven't given it the voice or space it needs. Maybe that's why you miss your siblings so much. Even if they aren't responsive to you, others will listen and care.
Meanwhile, hold your siblings in a good place in your heart. Don't make yourself crazy trying to get them to "like" you. Like yourself, and wish them well, wish them healing. Reach out to them and shower them with genuine love based on who the three of you are today. And whatever you give to them, give to yourself as well. We can't control how others feel, so we owe it to ourselves to spend at least that amount of love and care on our own lives.