Dear Family Advisor
Celebrating the Holidays When a Loved One Is Dying
Last updated: Nov 24, 2010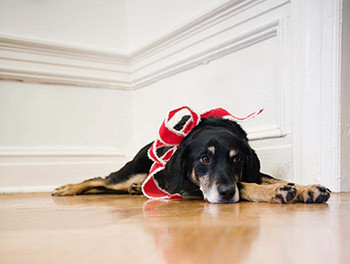 Dad's come to my home to die, basically. (He has terminal cancer and receives hospice care.) I don't want to buy a turkey or put up a tree or shop for presents. I wander from his bedside to the kitchen (to eat junk) and then back again.
My sister wants to "deck the halls" and plan a big holiday gathering and I couldn't care less. I have a 10-year-old and a 15-year-old; do I need to do this for them? If so, how do I get past this "stuck" place? Or how do I make them understand this isn't the year for frivolities?
Perhaps there's a way to honor both your dad and the holiday season in ways that comfort you and still allow others to handle this situation in their own way.
Your emotions are an honest and healthy reaction to your dad's eventual passing. We tend to think of grief as coming after death, but that's not really true. Grieving comes when we feel we've lost something or someone dear to us. Not only is your father dying, but he's dying in your home, which kicks up lots of other emotions that deserve acknowledgment.
First, talk to your children, your spouse (if you have one), and your dad. Be sensitive to their wishes and expectations for the holiday season. You might be surprised by their visions. No matter how sad you feel, your children's needs should be at the top of your list. As much as you may want to crawl in a dark hole, as a mom, you can't -- and that's a good thing. Our love for our children and our instinct to look out for their welfare can keep us going in the darkest of times.
Continue to make their lives as normal as possible. I faced this with my mother's passing. Each of my children needed to handle it in an individual way. It helped to keep their activities going, continue pizza and movie nights, and allow them to go skating with friends or do other activities they love. Talk to their friends' parents and others who can pitch in to help keep their lives on an even keel. Some children want to spend time with their dying loved one; they need to be sad and work through their thoughts of what it means to live and die. Others prefer less of this. In the end, I allowed my children to stay the last few days of my mom's life at friends' houses. I could tell that it was just too much for them -- but each family and family member is different.
Some sadness is absolutely normal now, so don't freak out if any of you have some really rough days while the rest of the world is making merry. You all may need what we called "pajama days," when we stayed in our jammies, watched movies, looked at photo albums, talked, or just chilled. Later my kids shared that these days meant a lot to them. They said they'd needed to give into the sadness for a little bit and then it would lift.
You can also talk to hospice about their bereavement services for children (camps, retreats, social services) and for suggestions on how to help your kids face their grandfather's death with love and acceptance.
Know that you can play it loose as far as what feels right for how much you "do up" the holidays. You can run out and get a tree at any time, you know, even on Christmas Eve. Maybe your kids would like to have a small tree in their rooms. Or change traditions, like letting them go shopping with a friend even though that's usually something you do with them.
If your sister wants to have a big gathering, and you don't, let her do it at her house. Tell her you're unsure if you can participate. (Say it with love, and stay open to the possibility you might want to join in.) Perhaps you can gently and non-judgmentally suggest that all that effort is time taken away from being with your dad and that her idea of a big event might make a wonderful memorial gathering six months or a year from now. Ultimately, though, allow her to do what feels good to her. All of us process grief differently.
Be gentle with yourself as well. If you really feel yourself sinking down fast, talk to your doctor about the possibility of depression. It's okay to get a little help if you need it. Don't let anyone tell you how you should feel or not feel, what you should do or not do. There's no one right way to say goodbye, except to follow your heart.