Dad Has Dementia
Week 35: Nothin's Gonna Change My World
Last updated: Sep 10, 2010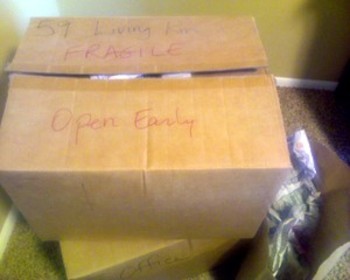 I'm normally off on Mondays, and so, every weekend after Dad died, I drove north to Mom's house on Saturday "" packed, packed, packed her belongings "" and then returned home on Monday. We had three weekends to dispose of 30 years' worth of accumulated tchotchkes, family heirlooms, photos, and everything else.
With no time to hold a yard or estate sale, we instead hauled box after box of stuff to Goodwill. Forty-two boxes of books alone went to the charity. We joked that Mom's contributions would keep the local Goodwill afloat for at least six months. The joke rang hollow for Mom, though; it broke her heart to see so many of her cherished items given away. To help ease her pain, my sister, brother, and I took many items we didn't necessarily want, but Mom felt it important they be kept in the family.
Condensing the accumulated detritus of 30 years and 2,500 square feet into furnishings that would fit into a 1,400 square foot town home proved challenging, but we were able to get it done. On my next-to-last visit to the family home, Mom and I sat in the living room, surrounded by boxes labeled 'kitchen' and 'FRAGILE "" china cabinet.' I gazed out the huge glass windows toward the mountains, determined to burn the view into my memory forever, as I knew soon I'd never set foot in that room again.
As the time approached on Monday for me to hit the road for home, Mom decided to run a bank errand. That gave me precious time alone in the house. For 20 minutes, I roamed from room to room, savoring the memories: Dad and I moving the original washer and dryer into the basement in 1979; Mom and I frying Christmas donuts in the cramped kitchen. Then I walked outside into the dewy, overgrown yard. I said goodbye to Snickers, the beloved family cat buried (illegally) in a corner of the backyard. I stood looking up at the house, remembering the summer I turned 20, when Dad and I installed the rain gutters ourselves.
And then, before memories overwhelmed me, I climbed into the car and headed south.
In northern New Mexico, where the Great Plains sweep up against the tail end of the Rocky Mountains, radio reception grows static-y. I didn't feel like playing any CDs, so I drove in silence. And then the strains of a Beatles song streamed into my head.
Words are flowing out
like endless rain into a paper cup.
I thought of all the things I wished I'd been able to say to Dad: Things like how much I appreciated his guidance. How he taught through example the importance of sticking to your principles. I love you, Dad, I whispered. You inspire me. You will always inspire me. Thank you. For everything.
Limitless, undying love which
shines around me like a million suns
It calls me on and on across the universe.
I hurtled across the prairie, feeling alone yet not alone, eyes bright with tears.