Dad Has Dementia
Week 33: What Does Grief Look Like?
Last updated: Aug 26, 2010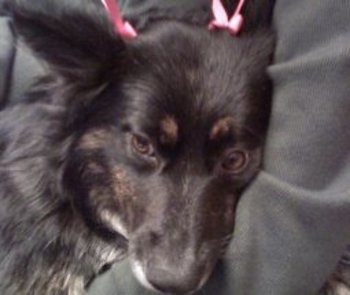 My car rolls down I-25, southbound, the freeway bending behind me like a long black ribbon in the rear-view mirror. I try to focus on the road, but having driven this route nearly 75 times in my life, it's difficult to concentrate. I'm returning home after helping my mom pack up the family home, in preparation for her move to my state. It's a five-hour drive, which offers me plenty of time to think.
South of Raton Pass, the northern New Mexico terrain opens up into vast grass plains with mountains and mesas rising in the distance. Buffalo graze to my right; a herd of antelope scatters to my left.
Dad loved this area. To him, it was reminiscent of the Old West, where you could hop on a horse and gallop into the sunset.
So, today, this is what grief looks like: buffalo grazing near the highway and vast prairie grasslands stretching west to the deep green mountain range.
At home, grief looks like this:
an empty bird feeder, bereft of seed, because Dad isn't there to fill it "" and I don't have the heart
dying sunflowers, which Lee quit watering because they were ripe, and he lacked the motivation to maintain them after Dad was gone
a dog in search of her friend; Maxine frequently wanders into Dad's room, sniffs around, and then looks at us in puzzlement
And grief sounds like this:
the quiet that comes from no walker wheels scraping on the floors
a lack of baseball commentary on the TV
the absence of laughter over something Dad said or did
At work today, grief looked very much like a teary meltdown during a conversation with my boss about my job frustrations. (I had to spend a few minutes in the restroom, composing myself. How unprofessional!)
Mainly, for me, grief looks and sounds like darkness and silence. No lights thrown on in the middle of the night. No jangling walker accompanied by shuffling feet. No inconsequential sports chatter.
Darkness and silence.
It would be unbearable, except grief also looks like:
A jungle of tomato plants bearing fruit
Improbable cucumber vines producing more crisp vegetables than a family of two or three can possibly eat
A random Blue Jay watering itself at the birdbath
And grief also sounds like:
A good friend on the other end of the telephone, telling you your tears are not "˜ridiculous'
Co-workers who tell you not to worry, as they close ranks to cover for you when you absolutely must attend the funeral
Your siblings reassuring you that it's normal to be sad about the closing and sale of the home that's been the family command center for three decades
And your husband who holds you tight and tells you to go ahead and cry, because it's therapeutic. That's what my grief looks and sounds like.