Dad Has Dementia
Week 30: Just Like That, It's Over
Last updated: Aug 06, 2010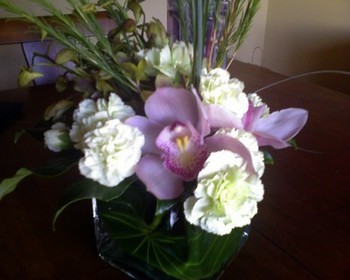 I thought Dad would live for years with dementia and that our caregiving journey was just beginning. But suddenly, just 10 months after being diagnosed, my dad lies comatose on a hospital bed in my dining room, seemingly near death.
Three weeks ago, he took his walker outside to inspect his tomato plants, do a little weeding, and water the sunflowers. Ten days ago, he lost the use of his legs. A few hours ago, his agitation finally calmed, and he became unresponsive. How did this happen so quickly?
Like most people his age, Dad suffers from more than just dementia. His main health problem is congestive heart failure. However, because Dad's dementia is vascular in nature, it's certain he's been suffering numerous small, silent strokes recently. Could these strokes be the cause of his rapid decline?
My sister's days off fall mid-week, and on this Wednesday she's flown in to see Dad. My brother is making a 14-hour drive on Friday to visit.
I'm happy my sister is here. Merely having another supportive presence in the house provides a sense of peace that I'm sure Dad feels as well as I do. She strokes Dad's forehead the way one would calm an infant and whispers loving sentiments in his ear. She's delighted when, after having lain unresponsive for many hours, Dad turns towards her, cracks one eye slightly open, and puckers up for a kiss. We both laugh, and then cry, as she kisses him "" possibly for the last time.
At midnight Wednesday, Dad becomes restless. My sister and I attend to his needs, giving him pain medicine and turning him slightly onto his left side, the side he's always preferred to sleep on. He immediately sighs with relief and drifts off.
Thursday morning, I go to work as usual. Our surgery schedule is light, so I come home around 11:00 a.m. to see Dad and visit with my sister.
"I'll treat you to lunch if you'd like to get out of the house for awhile," she says.
"I realize every minute you spend with Dad might be the last minute," I reply, "and I don't want to deprive you of any of those."
She reassures me that she'd like to get away for a bit. Just an hour, maybe. She's been sitting with Dad all morning and could use a break.
We kiss Dad and tell him we'll be back. I ask the caregiver to call if there's any change in his condition.
At 12:20 p.m. on Thursday, just after we've finished our sandwiches, my cell phone rings. It's the manager of the caregiving service. "I'm so sorry to tell you," she begins.
Dad passed away very peacefully on July 15th. I think he waited for my sister and me to leave so we wouldn't have to witness that last, labored breath. I'm grateful he spared us that.
Tears flowed as we raced back to the house. I'll miss my dad so much. His pain has ended; ours is only beginning.