Dad Has Dementia
Week 3: The Hard Costs of Caregiving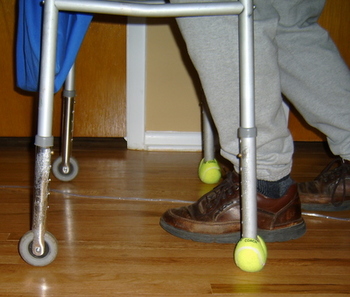 All Rights Reserved
When I think about caring for my dad in my home, I tend to group the associated costs into three basic categories:
Soft costs. These are the incidental costs associated with having another person live in the home, such as increased gasoline expense, and the hidden costs, such as increased wear-and-tear on carpeting. (Trust me, Dad's walker scraping back and forth across the newly refinished hardwood floors will definitely take its toll.)
Hard costs. These are expenses for things like additional furniture and accessories, increased utility costs, groceries, and incidentals. In short, these are costs that can be quantified.
Human costs. This includes the emotional toll of caregiving.
In an effort to be as candid as possible, I want to address the hard costs of caring for a loved one in your own home. Lee and I are lucky: we both have good jobs that afford us a nice standard of living. Hence, we have been able to spend some money on necessary items (like a new bed for Dad), as well as fun items like birdfeeding equipment (because Dad loves birdwatching). Here is a list of what we have spent so far, including amounts we shelled out in advance of Dad's moving in with us.
"¢ New bed: $600
"¢ New mattress and box spring set: $700
"¢ Bedding: $100
"¢ Dresser for Dad: $600
"¢ Bedside table for Dad's room: $50
"¢ Used wool rug for Dad's room: $70
"¢ Hamper and other incidentals for Dad: $50
"¢ Additional end table for the family room: $50
"¢ Floor lamp to place next to Dad's recliner: $60
"¢ Foods we would not normally buy but purchased because Dad likes them (such as various cookies and snacks): $100
"¢ Birdfeeders and seed: $80
We do expect our utility bills to rise, but Dad hasn't been here for a full month yet, so we don't know how much higher they will be. Some reasons why our electricity, gas and water bills will rise:
"¢ Used to run the dishwasher twice a week; now run it nearly every day
"¢ Used to leave the thermostat turned down to 60F during the day; now leave it turned up to 72F
"¢ The electric space heater in the family room was formerly used only in the evening; now it's used all day, every day
Dad purchases his own groceries and covers all of his non-utility expenses, so we're not complaining. I simply wanted to list some of the home caregiving expenses we've incurred so that others will know there are real financial ramifications to taking a loved one with dementia into the home for care.
Also, we tried to shop for used furniture but were unable to find what we wanted "" especially on short notice. We figure the furniture to be an investment, as we can use it for the rest of our lives. And, really, isn't this why God created MasterCard, anyway?