Dad Has Dementia
Week 14: How Can Life in the Slow Lane Be So Hectic?
Last updated: Apr 16, 2010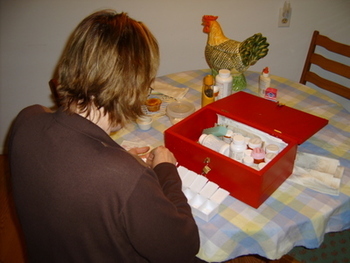 The past Monday was a typical one. I had two morning appointments, plus I needed to get Dad to the lab for a blood draw, and I figured we'd have lunch out, as well. It doesn't sound like much, does it? Yet it kept us on the go from dawn until nearly 2:00 in the afternoon. Here's how.
6:00am: Wake up, drink coffee, take shower, style hair, get dressed, let dog outside to do her business.
6:40: Wake Dad, get his coffee, watch him eat cereal.
7:25: Keep Dad on-task with cleaning up and dressing.
8:20: Prepare portable oxygen tank, find Dad's favorite sweater, marshal tax paperwork and purse. Tell Dad it's time to leave.
8:22: Dad needs to go to the bathroom. Sometimes this takes awhile.
8:42: Discover Dad has left the bathroom and is sorting laundry. He can't find his glasses. I remember I need to hastily pour some ice water in a to-go cup and throw a couple of pain pills into my purse for Dad.
8:55: Wrestle the walker into the backseat of the car while Dad buckles up.
8:57: Pull out of driveway while calling tax accountant to report I'll be slightly late for our appointment.
9:12: Pick up paperwork from first tax accountant; leave for the second one. (Lee and I own a business, so we have two accountants.)
9:30: Arrive at business tax accountant's.
10:40: Leave accountant's and head for the lab.
10:57: Arrive at lab, sign in, wait.
11:12: Wait.
11:30: Wait.
11:35: Get called, go back into little blood-drawing cubicle, have blood drawn.
11:40: Leave for restaurant.
11:52: Arrive at restaurant, wrestle walker out of car, get Dad moving. He wants to look at the interesting bronze statue of a bronc rider in front. 12:00: Finally go inside.
12:07 Dad can't decide whether he wants breakfast or lunch. We try to narrow it down. Decides he wants a waffle.
12:10: Waitress informs waffles aren't available, despite the "breakfast served all day" notation in menu. Dad peruses menu some more.
12:17: Dad decides he wants the senior pancake plate. I'm having quesadillas and a salad.
12:30: Enjoy some people-watching while we wait for our food. Elderly rancher hobbles by and raises a hand in greeting to Dad. They don't know each other.
12:33: Food is delicious.
12:45: I finish my quesadilla and salad. Dad has taken a few bites of his pancake, and none of his bacon and eggs.
1:10: Dad finishes up pancake. Check e-mail on smartphone.
1:14: Tell Dad it's time to head home. The dog needs to be let outside.
1:16: Dad needs to go to the bathroom. Sometimes this takes awhile.
1:33: I'm on the verge of barging into the men's room to ensure Dad hasn't fallen and hit his head or suffered some other catastrophic event. At the last moment, he emerges.
1:35: Wrestle the walker into the backseat.
1:55: Arrive home. Dad lies down for a nap. I, on the other hand, let the dog outside, water the flowerbeds, throw in a load of laundry, plan tonight's dinner, and dole out Dad's pills for the coming week into two Sunday-through-Saturday pill boxes.
When Lee arrives home, he'll ask me how I can be so exhausted when I had "the whole day off." I will secretly put cayenne pepper in his portion of pork roast.