Dad Has Dementia
Week 31: Go Ahead and Grieve, but Make It Snappy
Last updated: Aug 13, 2010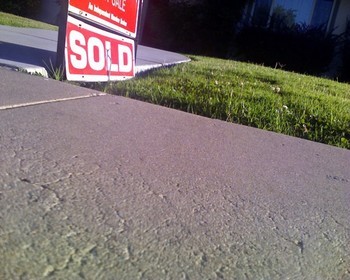 My sister and I sat with Dad's body for quite a while after he passed away. We smoothed his hair and kissed his forehead. It bothered me that his nose hairs were sticking out, so the hospice nurse trimmed them for us. I rubbed his bad leg almost continuously, caressing it. My sister shared stories, humorous ones, about him.
Eventually the body grew cool, and we felt ready to let him go. We called the mortuary, signed papers, and then someone came to take Dad's body away. Later that afternoon, the medical supply company arrived, offered cursory condolences, and discreetly removed the bed, the Hoyer lift, the bedside commode that had never been used. My dining room stood empty. The house was quiet.
My sister had to catch a plane back home at 4:00 p.m. Lee made sure she got to the airport on time.
I wandered aimlessly around the back yard, at loose ends. No tears would come. I admired Dad's tomato plants and thought how proud he'd be of them. The first ripe tomato would be ready for picking tomorrow. How sad that he wouldn't be there to enjoy it.
After we got the call about Dad's passing, the question was: How do we tell Mom? Since my sister was at my house, it meant Mom was all alone at home. She and Dad had no friends there -- at least, none that were still alive. We couldn't break the news to her by phone.
I decided to call her pastor. He was very accommodating; he dropped everything else he had to do and drove to Mom's house to give her the news. She called me, tearful, to let me know she'd been informed. She also had other news.
"I got an offer on the house today," she said. "The third person who looked at it. They're offering full price if I pay closing costs."
A cliché came to mind: It never rains but it pours.
"That's terrific," I said, bereft of enthusiasm. "When will you know for sure?"
"I made a counter-offer today," Mom said. "I expect to hear back from the agent any time."
After I hung up, I realized I wouldn't have time to grieve. Assuming the buyer accepted Mom's counter-offer, the closing would occur within the month. That meant I'd need to make numerous trips in the coming weeks to pack Mom up, sell off belongings, and prepare her to move here, to my city. And I'd have to find her a place to live.
I wandered outside and noticed the hollyhock I planted from Dad's seed was blooming. As a biennial, the hollyhock shouldn't have bloomed this year; it should bloom next year for the first time. Yet here it was, putting forth flowers the color of lemon meringue pie.
Tears seeped from my eyes. "I miss you, Dad," I whispered, "but right now I have to focus on getting Mom squared away."
From somewhere, I heard Dad tell me everything would be all right.