Dad Has Dementia
Week 6: In Praise of the Dementia Caregiving Team
Last updated: Feb 19, 2010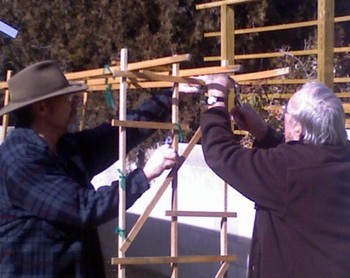 No one who cares for a loved one with dementia does so alone. None of us toils in a vacuum.
In re-reading previous posts, I fear I make it sound as if I "" and I, alone "" care for my dad. Nothing could be further from the truth.
My husband and I made the decision jointly to invite Dad to live with us. We had what we thought was a thorough discussion, even though now we laugh at how shallow our talk was. ("Well, we can add some furniture to the guest room, and... that should take care of everything! Whee!")
When we made this decision, I was working just two days a week as an RN. "It will be perfect," I said, apparently envisioning some sort of caregiving shangri-la. "I'll have five days a week to take care of Dad. We'll have a wonderful time."
However, between the time of the decision and the day Dad actually moved in, radical changes occurred at my workplace. Two nurses quit, which left me the lone RN standing. Over the course of three weeks, I went from working two days a week to working four days. Long days. Ten- or 11-hour days. And, for various reasons, we will not be hiring another full-time RN in the near future.
Given these circumstances, Lee stepped up to the plate. He's the one who spends the most weekday time with Dad. He's the one who comes home from work by 4:30pm in order to get dinner on the table at a reasonable hour. He's the one who makes sure Dad gets his evening pills.
Lee also makes it a point to think of creative "guy activities," like putting up a bird feeding station, to do with Dad. As a man's man type, Dad needs to feel he can still contribute to the household, and Lee goes out of his way to give Dad handyman tasks that Dad can still handle.
It's difficult for me to express my gratitude to my husband of nearly 30 years. He cares for Dad because he cares about Dad, even though Dad is his father-in-law, not his own father. That says a lot.
Another member of my caregiving team is my best friend, Mitzi. On a recent weekend, when I was feeling overwhelmed and had a little meltdown, Mitzi was there for me, on the other end of the phone, encouraging me and helping me dial down my perfectionism. She also has offered to take Dad out for coffee and simply visit with him, in order to keep him from becoming depressed by being confined to the house four days a week. Again, I find it hard to express my gratitude to her for this.
I know other people will join my caregiving team as time goes on. I am looking forward to meeting them "" and hoping I can return the favor, in time.