Dad Has Dementia
Week 23: The Self-Pity Edition
Last updated: Jun 18, 2010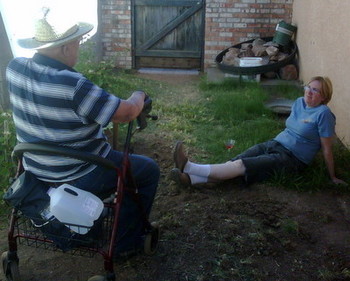 Did I mention I never had children?
I admire parents because they sacrifice so much for their kids, chasing them from event to event, dropping what they're doing at any given moment to referee a sibling dispute, shelling out countless greenbacks for uniforms and fees and swim lessons and dance recitals, and just generally giving up their own lives until the day their children fly the coop.
Don't get me wrong; I didn't choose not to be a parent. It just wasn't to be for me. So, I contented myself with stepmothering Lee's daughter and left it at that.
Being child-free offers certain advantages in life, the main one being that I've always owned my agenda. Each morning when I awoke, the day stretched before me like a familiar highway with many interesting exits. If I felt like trotting to the grocery store, I did it. If I felt like vegetating in front of the TV watching Cary Grant movies all day, I did it. If I felt like cooking, I did. Otherwise, we popped out for dinner. I was spoiled.
Keyword "was."
These days, my daily agenda belongs to Dad. If he decides to, say, clean the birdbath, I'd better drop what I'm doing and help. Otherwise, I hear, "Beth can you help me find the brush? Beth, can you bring me the hose? Beth, can you empty the birdbath? It's too heavy for me." Beth, Beth, Beth, Beth, Beth. A thousand times a day: "Be-e-eth..!"
It makes me want to scream sometimes.
And there is no negotiating. If Dad wants to clean the birdbath, it must be done now. It's impossible to say, "I'm in the middle of playing a video game, Dad. How about if I play for 15 more minutes and then we clean the birdbath?"
Because I've tried this approach, I can assure you the response will be, "No, it needs to be done right now. But you just keep doing what you're doing. I can clean the birdbath myself."
Right.
In short, my life has gone from being Beth-centric to being Dad-centric. And I'm having trouble adjusting. How pathetic is that?
I have taken to fantasizing about having a single day to call my own. A day in which I could plan an agenda and not have it derailed. A rewind to no particular day last summer when I might sleep until 9:00 a.m., make myself an egg white omelet with goat cheese, take a short drive to antiques row and spend a few hours browsing the shops for fun home décor items, then return home for a couple of martinis and salmon steaks on the grill.
My dad epitomized the parent I admire. The one who sent me to day camp and bought my Brownie uniform. The one who paid for countless guitar lessons, even though it was clear early on music wasn't my forte. The one who sacrificed his personal life until my siblings and I had flown the coop.
And now, when he needs me, I feel put out by his demands?
Am I really that shallow?