Dad Has Dementia
Week 26: Taking Stock
Last updated: Jul 09, 2010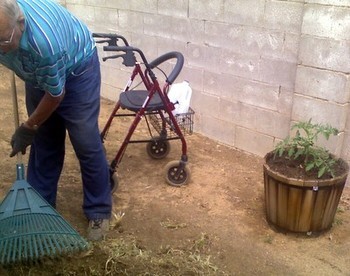 This is week 26 of our odyssey in home care for my father. For six months, we (my husband, Lee, and I) have taken care of all of Dad's needs. I want to take a moment to reflect on how things are going.
In an early post, I discussed the various types of 'costs' associated with caring for a loved one in the home. I grouped these costs into three categories: soft costs, hard costs, and human costs. Let's see how we're doing in these areas, six months in.
Soft costs: The incidental costs of caring for Dad at home have been greater than we anticipated. We burn more gasoline, for example. Also, much of our furniture has been damaged. I hate to sound shallow, but I'm upset that one of my upholstered Thomasville chairs is effectively ruined from Dad's peeing on it, accidentally, and then spilling chocolate syrup on it, as well. As for why Dad was sitting in the chair to begin with, it's simple: Of all the furniture we have, Dad found that particular chair to be the most comfortable "" and who's going to deny Dad a comfortable chair in his golden years? At any rate, I've discovered that the physical damage to our surroundings has far exceeded what I expected. I was naïve and unrealistic not to understand that a frail grown-up with dementia couldn't help but wreak havoc on furnishings.

Hard costs: As expected, these costs have accumulated over time, but only the cost of dining out has really exceeded our expectations. Dad likes to eat out frequently, and Lee and I try to pick up the tab about half the time, even though we wouldn't normally eat out as often. On the plus side, we haven't really seen any increase in our utility bills, except perhaps the water bill, which is higher because Dad loves to garden.

Human costs: I feel like such a weenie. I thought caregiving was hard at the beginning of this journey "" when Dad could still ambulate well, converse, and take his own meds. Now that we're getting down to the nitty-gritty, with Dad increasingly unable to ambulate or take care of his own activities of daily living (ADLs), I'm finding myself more stressed than ever. And I know Lee feels the same way, even if he hides his feelings behind that placid, masculine facade. To my dismay, my own feelings frequently spill over in waterfalls of tears, and the sheer anxiety of feeling unprepared and incompetent to handle what the next day might bring really takes its toll on me.
How long will this caregiving odyssey go on? Will it last another six months? Six years? Frankly, my stress level at the moment tells me I can't last another six months. Caregiving is so much more emotionally and physically exhausting than I ever imagined.