Dad Has Dementia
Week 9: Dad Falls Down and Breaks His Crown
Last updated: Mar 12, 2010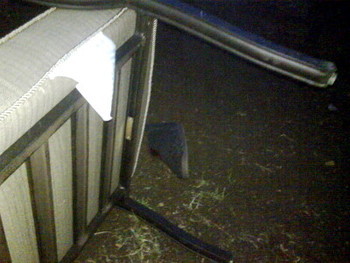 The text message from Lee arrives at 4:22pm on Friday: "Your dad fell this afternoon in back yard & hit his head. Bump over left eyebrow. Face pretty bruised."
Lee always gets home ahead of me. As a registered nurse, I work 10-12 hour days at the plastic surgery clinic. I may get home at 5:00 p.m. Or 7:00. I don't work set hours. Lee gets home around 4:30, chats with Dad, and gets dinner on the table. He's a godsend.
When I finally get home, I discover Dad boasts quite a bump on his eyebrow. The side of his face is swollen. He says his shoulder hurts "quite a bit," and he has a bad headache.
I know I should monitor Dad for signs of concussion: vomiting, confusion, amnesia, headache, slurred speech. I know the proper thing to do would be to keep Dad up for a few hours and, if necessary, take him to urgent care and then on to get a CT scan.
Instead, I say, "Why don't you take these two ibuprofen tablets and go to bed? Maybe sleep will help."
This strikes me as wrong, on so many levels.
The next morning, I lay awake in bed, wondering if I've caused Dad to have a fatal brain bleed during the night. I feel horribly guilty.
But then I ask myself what Dad would want if he could decide for himself. Would he want to be carted off to urgent care? To wait several hours to be seen? Then to be taken somewhere else to wait several more hours? Then be forced to lie flat on his back for a CT scan of his head? And the answer is a resounding no! (Not to mention, what if the scan did find a bleed on his brain? Then what? Force him to undergo an emergency craniotomy? The idea is unthinkable.)
Dad's stated goal for the past several years has been to avoid another hospitalization. That's saying something, coming from a man who's had over 20 major surgeries in his lifetime; a man who can't walk upright due to crippling back and joint disease; a man who battles chronic pain every minute of every day. In fact, he's made me pledge "" on more than one occasion "" never to take him to a hospital again.
As I lay awake in bed, considering all these things, I feel at peace, as if maybe my actions the night before hadn't been uncaring, but rather compassionate. And then I hear Dad arise and shuffle with his walker into the bathroom. Evidently, he's going to be all right. Crisis averted.