Dad Has Dementia
Week 7: Bitterness Rising
Last updated: Feb 26, 2010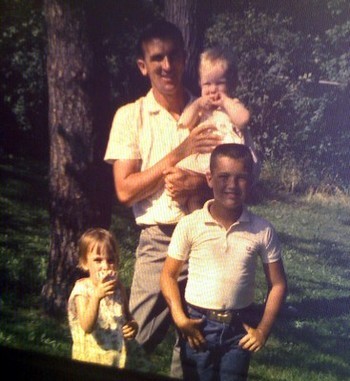 Today, my father looked across the kitchen table at me and asked pleasantly, "So, tell me. Where were you born?"
Of course, he knows perfectly well where I was born. Or, at least, he used to know. But today, he was making small talk with the nice woman across the table who is a stranger to him.
I was born in Clark Valley, the fourth generation born onto the family farm. Like my two siblings, I wasn't literally born on the farm; I entered the world at our small town's community hospital.
We experienced an idyllic childhood, my brother, sister, and I. We formed the center of a perfect 1960s nuclear family. Dad worked as a carpenter; Mom stayed home and took care of the kids. We all pitched in on chores to keep the farm running, whether feeding calves or weeding the gigantic vegetable garden. We went to church on Sundays and socialized with our many aunts, uncles, and cousins "" most of whom lived within half an hour of us. Dad bowled on a league. Mom belonged to the Ladies' Aid.
Dad remembers none of this. Or, rather, he says the memories are "like a dream" to him.
I tell my dad casually that I was born in Clark Valley. "Oh," he nods. "It was nice there."
I'm not an overly emotional person, but I find myself fighting back tears. My own father has no recollection of me as his daughter. He doesn't remember that time he took the two of us "" and only the two of us; no sharing him with my siblings this time "" to the major league baseball game. Box seats, no less! He doesn't remember the many times he boosted me up onto our old mare so that I could ride bareback across the pasture. He doesn't remember that time my brother, sister, and I bought him a toolbox for Christmas and, because it was too large to gift wrap, left him a trail of clever clues that had him making a treasure hunt through the house in order to claim his present -- shrieking gleefully the whole time.
All of these memories are gone.
I gaze at Dad, who is finishing his lunch. On the one hand, I am happy he doesn't seem to know how much he has forgotten. At the same time, I feel angry and bitter for him and myself. I feel as if my childhood has been stolen, not only from me but from my dad. Dementia has erased all of the beautiful memories from Dad's mind. It has erased our history as dad and daughter. Too soon, it will erase him from our lives.
I feel angry. Very, very angry.