Caring Currents
How a Yoga Teacher and Caregiver Maintains Her Balance
Last updated: Dec 25, 2008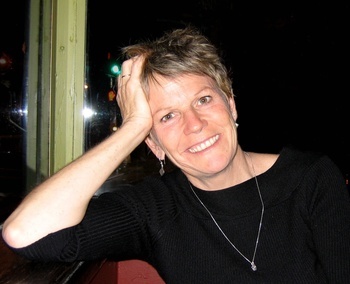 Image courtesy of Jill Davey.
Like many caregivers, Jill Davey felt something had to give when her mother moved from Ohio into an assisted living facility to be near her daughter in Berkeley, California. Davey owns her own graphic design business, teaches several yoga classes a week, and pursues a spiritual practice. Her life is full and busy.
At first, she thought she'd have to stop teaching yoga in order to accommodate the increased demands of caring for her aging mother. She's still the only person whom her mom will allow to bathe her. Then she had her light-bulb moment: If she wanted to stay grounded during her caregiving years, she couldn't not teach yoga. Her passion for her practice and her students has helped the 52-year-old stay centered during some challenging days with a mother who can be, well, difficult. "Some might think of yoga as a peripheral thing when faced with the demands of caring for a parent," she says. "I came to realize it was an essential part of my life."
Jill's mother has suffered from debilitating back pain for as long as her daughter can remember. Two surgeries haven't helped matters much. The 85-year-old is basically immobile and addicted to pain killers. Jill hired another caregiver to keep her mom company and tend to her needs when she's working or teaching.
In her two years of juggling all aspects of her life, Jill has learned that many of the core concepts central to a yoga practice are applicable to caregiving as well. Here, she shares what she's learned in the hope that it may help others.
Maintain equilibrium. There were days when Jill didn't quite know how she'd do it all. Working. Teaching. Caring for her mom. But after teaching a yoga class, the feeling that she was barely keeping all the balls afloat would disappear. In order to stay in balance, she learned, she needed to do the things that nurture her. She finds she's better able to deal with the demands of caregiving if she teaches a class and then visits her mom.
Create space. Dealing with an ornery parent doesn't usually get easier as they age. That's certainly been Jill's experience. But what she's learned from yoga is to create a space where she can feel safe -- and keep her mom at a distance. Think of it as setting boundaries. "If I'm clear about what I can and can't put up with from my mother, then there's enough space in the room for both of us," she says. "Then I can protect myself and be open-hearted in my responses to her demands."
Look after your own body. Jill's mother never exercised much, and because she didn't, she can't now. That's a constant reminder for Jill of how important it is to keep moving and using your body. "My mother has never understood the benefits of being in the body. It's just a bag of bones to her -- and a painful one at that," says Jill.
Remember to breathe. Caregiving can be stressful. Give yourself the gift of taking a few minutes to focus on your breathing when things get tough. It's not like all your troubles will magically melt away, but you'll be in a better place to tackle whatever comes next.
Find time to practice. These days, it's rare that Jill has a whole hour or more to devote to her own yoga practice. Instead, she finds smaller windows of time to stretch or work through more vigorous poses. She says she also uses class time to teach what she needs. If she craves some quiet, meditative time after coping with a caregiving crisis, then she goes that route with her students.
Maintaing balance. Taking time for yourself. Creating space. These are worthy goals at any time, but especially during the hectic holiday season, when caregiving for a loved one can ratchet up a notch. 
What do you do to cope under the pressure of caring for a family member?