Caring Currents
New Vocabulary Words for Caregivers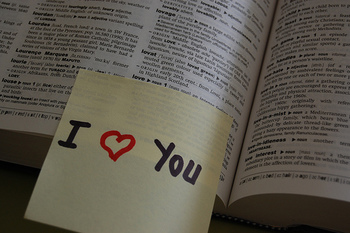 All Rights Reserved
De-stigmatizing. Re-thinking. Re-naming. If there's a bright thread running through this week's big "Aging in America" conference presented by the National Council on Aging and the American Society on Aging, it's that program by program, provider by provider, the whole concept of eldercare is going through a tremendous shift in a hugely productive direction. Just in time for us and our parents.
You have to love, for example, the vision of an "age rich, elder-wealthy society" painted by William Thomas, an inspiring gerontologist at the University of Maryland Erickson School of Aging. "The 21st century requires more than compassion; it requires that we exercise our imaginations," he said. "We need to move beyond the stigmatizing of dependency and the lionization of independence."
In other words, let's focus on what IS -- all the shades of grey -- and mine good from it.
How about these new words I heard that reflect this rethinking:
"Care partner" instead of caregiver, reflecting the idea that older people aren't necessarily helpless
"Senior move manager" -- A brilliant new kind of consultant helping both generations navigate this fraught transition
"Aging-in-community" -- a third alternative to aging-in-place or an institution
"Grand-family" -- The new name for the 6 million grandparents who are heads of household for kids under 18 (up 30 percent in 10 years!)
"Age-friendly" --as in housing --friendly for all ages, baby to elder
"The aging services network replacing "longterm care." Expect to hear more of this proactive, collaborative phrase, which reflects a billions-of-dollars effort to unify and reform federal, state, and local agencies and services for all payers (not just Medicaid), to be announced in the coming months.
"Disorders of longevity" replacing "disorders of old age." Uber-gerontologist Robert Butler, authorC of the new book The Longevity Revolution points out that we now know many diseases that show up late begin early in life. "Osteoporosis may be a pediatric disease," he says, in that the roots of bone integrity are laid down in adolescence or earlier
"Cognitive health" -- possibly the most critical kind of health you've never heard of
Re-framing colors how we see everything! Not to sound Pollyannaish -- watching parents age is no picnic, and problems still outstrip solutions. But especially in a disorder like dementia, victims and their caregivers often see only the dark side when there is still plenty of light.
Maybe we need a new dictionary for this new age of caregiving -- er, carepartnering. What words would you add to the new vocabulary list?
Image by Flickr user sergis blog used under the Creative Commons attribution license.