Caring Currents
Why You Should Care About Diabetes
Last updated: Nov 14, 2008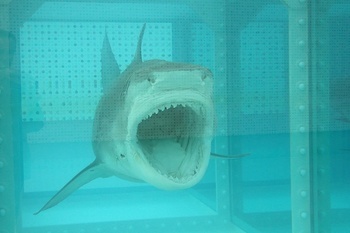 More people fear a shark attack, plane crash, lightning strike, or snake bite than developing diabetes. Clearly, our fears don't match reality. There's a diabetes epidemic, folks, but -- last I checked -- only a few unfortunate souls were felled by any of the above.
Alas, diabetes denial is not reserved for the undiagnosed. If you're caring for someone with type 2 diabetes, you may encounter resistance to recommended lifestyle changes that can keep diabetes complications at bay. Or this disease may take a backseat to other medical concerns such as Alzheimer's, stroke, or a broken hip. Perhaps the diabetes has already done significant damage. Or maybe he simply ignores the disease.
Whichever camp you fall into, since we're in the middle of American Diabetes Month, I thought this a good time to do a roundup of recent diabetes-related headlines.
Here, reasons readers should be concerned about diabetes -- and suggestions for how to handle the condition.
First, let's do the numbers.Every year, nine out of every 1,000 American adults are newly diagnosed with type 2 diabetes. That's up from just five in 1,000 from a decade ago, a worrisome leap. What it means: If you or the person you care for are at risk for the disease, get tested. Consider making lifestyle changes to avoid the disease.
Having diabetes or high blood pressure may hasten the death of people with Alzheimer's disease, suggests new research. It's too soon to draw a definitive link here, but it's becoming increasingly clear that diabetes and Alzheimer's is a troubling combo. What it means: Another reason to keep blood sugar and blood pressure in check.
Newer diabetes drugs have fallen under scrutiny. In the past year, safety concerns have surfaced about the non-insulin injectable exanatide (brand name: Byetta) and the oral meds sitagliptin (Januvia), and rosiglitazone (Avandia).

What it means:

Talk with a physician about medications if you have concerns about a drug's safety or side effects. Use caution when considering adopting newer drugs for the elderly, advises geriatrician and Caring.com expert Leslie Kernisan.
In a consensus statement on blood sugar control, doctors were advised to keep the individual in mind when weighing the benefits and burdens of so-called tight control in people with a limited lifespan. While an A1c test result less than 7 percent is recommended for the general diabetes population, a reading under 8 may be acceptable -- and more realistic -- in the frail elderly, says Kernisan.

What it means:

Check with the person in your care's doctor about what blood sugar range makes sense for him. Ask: Should I be concerned about his diabetes, given his overall health? How well is it controlled? Would he benefit if it was under better control?
Eaten twice a week, fish could fight off kidney disease, a diabetes complication, suggests a large European study, though it's too soon to make dietary recommendations based on this data.

What it means:

Maybe more incentive to include fish, a good source of protein and omega-3 fatty acids, in a healthy diet, which is key to diabetes care.
A review of the medical literature indicates that the relatively inexpensive, older, oral diabetes drug metformin may do a better job reducing heart disease deaths than newer, pricier pills.

What it means:

Consult with a physician about medication choices.
What else can you do to help the person in your care?
Keep diabetes in mind, even with multiple diagnoses. "No matter what other conditions a person may have, if glucose is too high -- consistently 200 milligrams or more per deciliter of blood -- a person will feel worse," says diabetes educator and Caring.com expert Theresa Garnero. That said, sometimes diabetes does play second fiddle to other diseases. "It's up to a skilled practitioner to look at the most pressing issue, ask what the family or patient is willing to do, then support their efforts," says Garnero. "We need to look at the whole person."
Consider lifestyle changes. Encourage the person you care for to get active, eat well, quit smoking, cut back on alcohol, and reduce stress. These can all keep blood sugar in check and help avoid complications and improve overall health.
Find a diabetes educator. These professionals can help you navigate the bumpy terrain that comes with a diabetes diagnosis. If you can find a diabetes educator who has experience with seniors, all the better.
What's missing from this list? Chime in with your thoughts.
Photo by Flickr user Kecko used under the Creative Commons Attribution license.